At Workstorm, we understand that some business is best conducted face-to-face. Whether it's in a meeting, over lunch, or on the golf course, complex conversations can require the use of more than just typed or auditory words. Facial expressions, voice intonation, hand gestures, posture, even thoughtful breaks or pauses in a conversation can greatly impact how messages are sent and received by others. This, in turn, can impact a person's perceptions, beliefs and response to a given conversation.
How to start a Video Conference
For best performance, please grant permissions for your camera and microphone in your browser or operating system's settings for users on the web app and desktop app respectively.
Click the blue +New button in the top left of your side bar and choose Video Conference.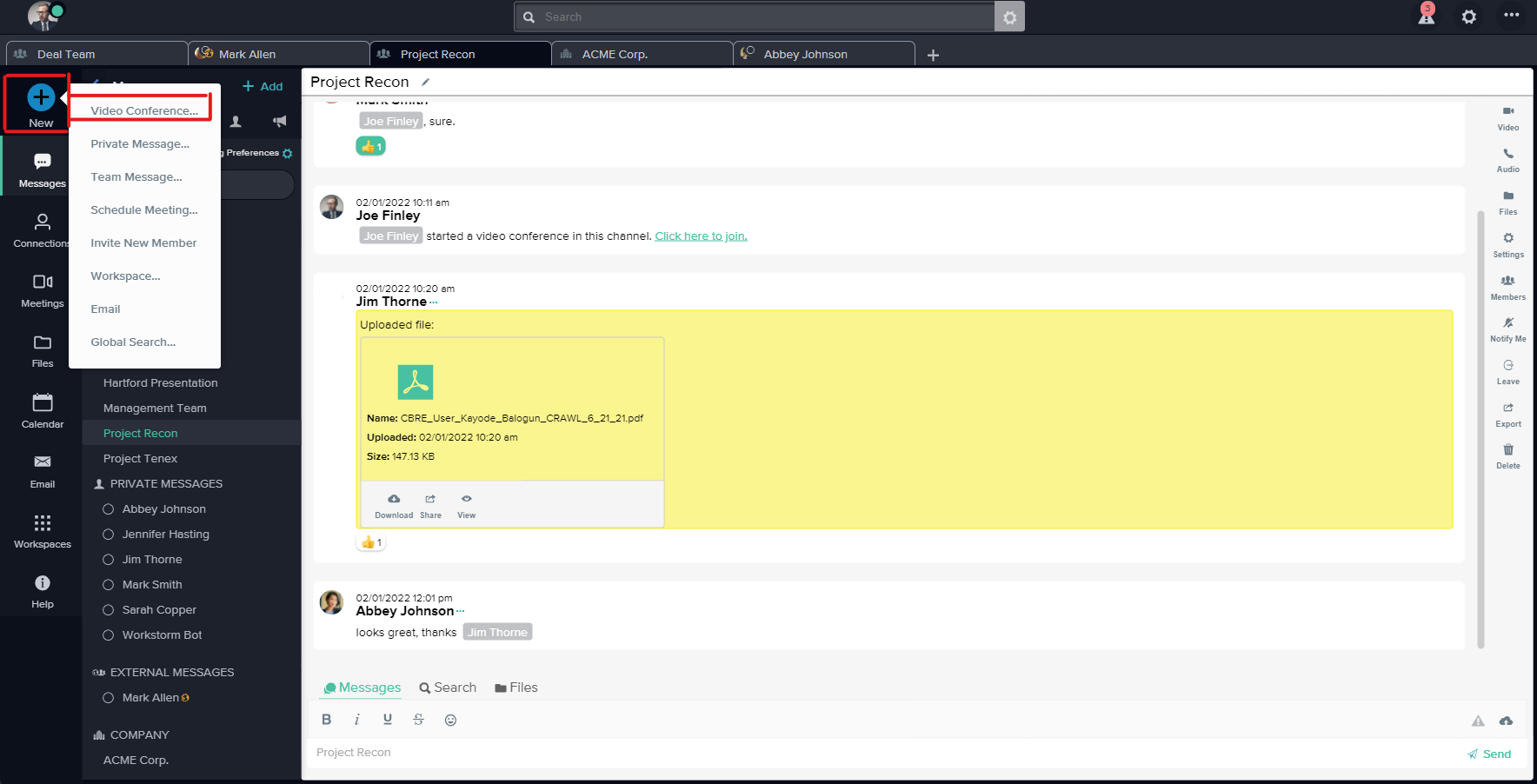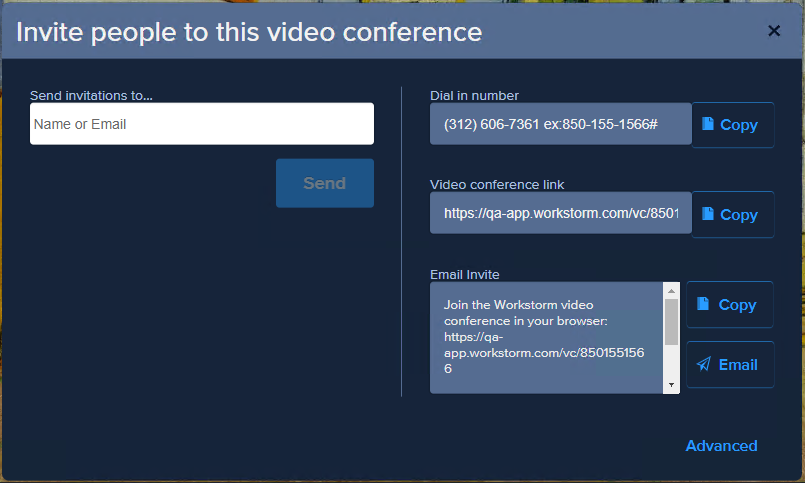 Starting a Video Conference in a Private or Team Message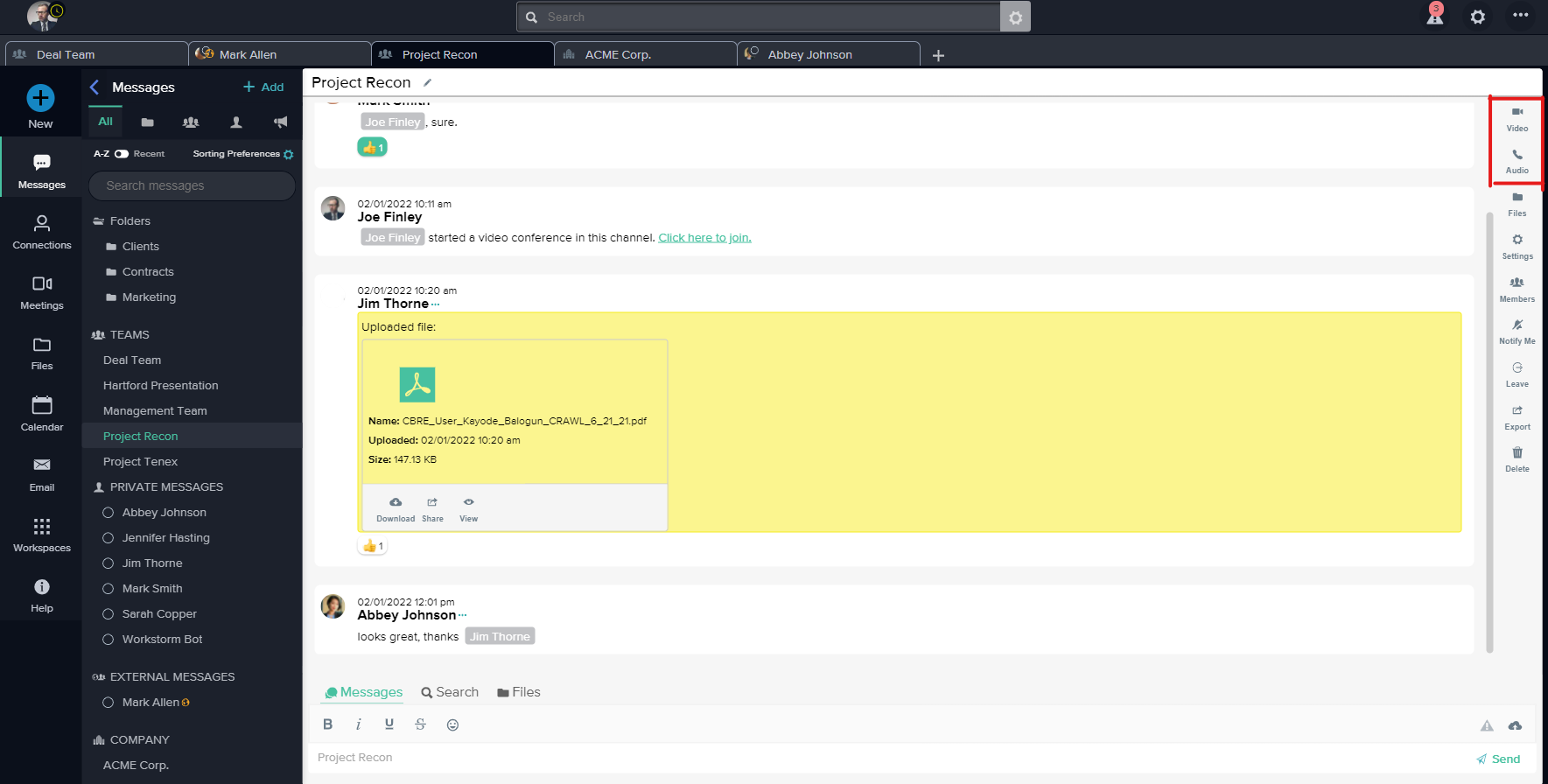 On the right-hand sidebar of the message window, click the Video or Audio icon. Audio calls will start with video off by default.
The user on the other end will hear a ringer, if their volume on their computer is on, as well as see a pop-up toast requesting that user to join the active video conference you started. The invited user/s can accept or decline.
Video Conference Window Layout Options
Workstorm provides two layout options, Presenter and Tile mode. Presenter will follow the dominant speaker and tile mode allows you to see other attendees in a grid layout based on their viewing preferences.
Keep the toggle to the left if you want to use Presenter mode and switch it to the right to activate Tile mode. Depending on your screen size and the number of attendees on the call, use the Max Video Feeds slider to customize how many tiles you want to see on your window at a time.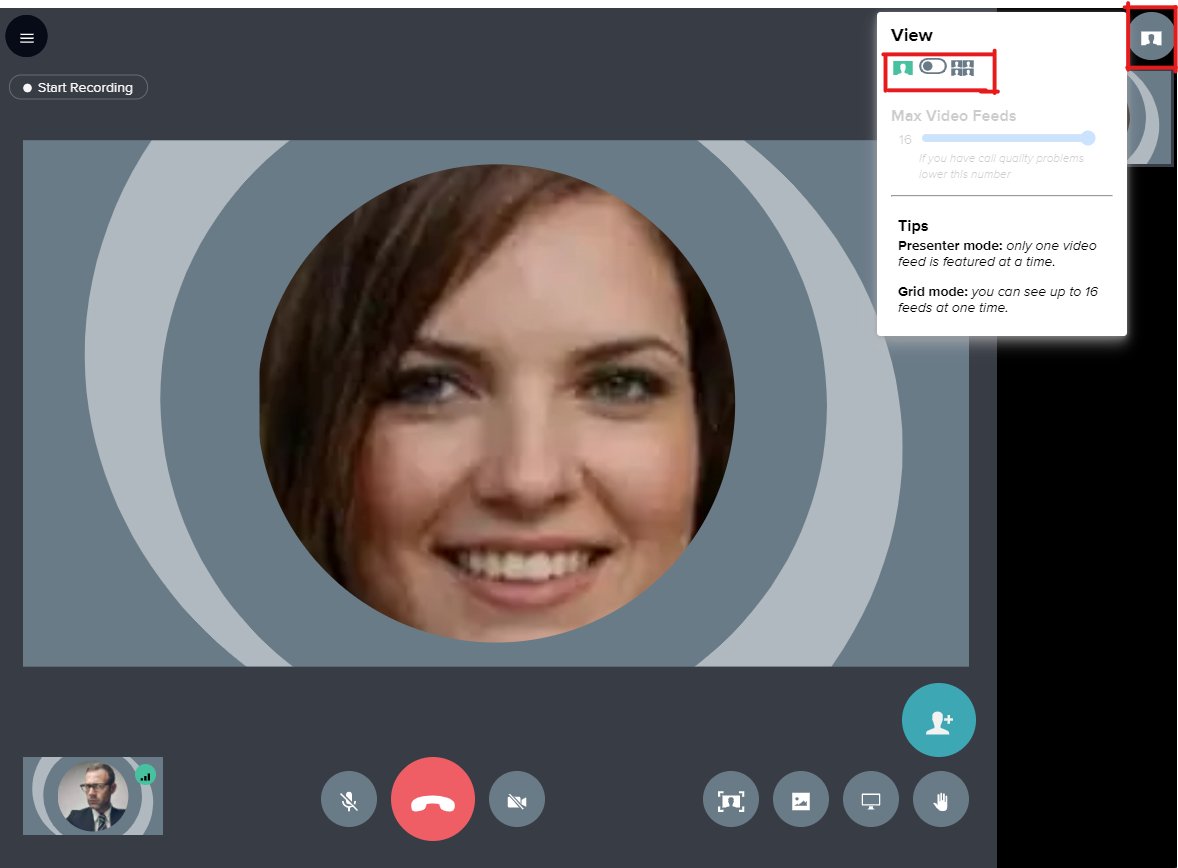 Accessing Conference Chat and Private Messages
If you don't already see the video conference command center menu open on the left side, click the ellipsis menu in the top left of the video conference window: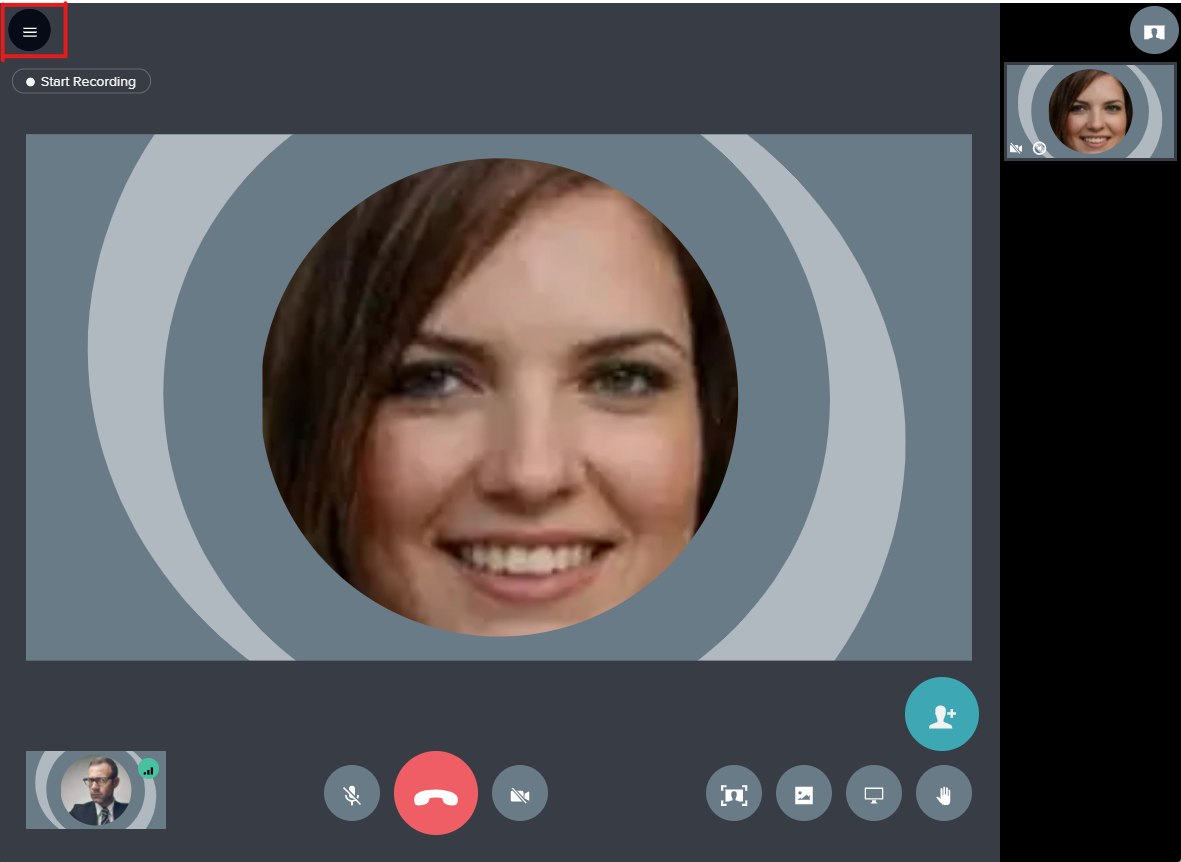 If you have any existing private messages with an attendee, users can access their 1-on-1 message to send messages back and forth during the call, upload files, view previously uploaded files and use search functionality all without having to leave your video conference window. Access your private message by clicking the middle menu tab called Messages and then directly below select Send Message to…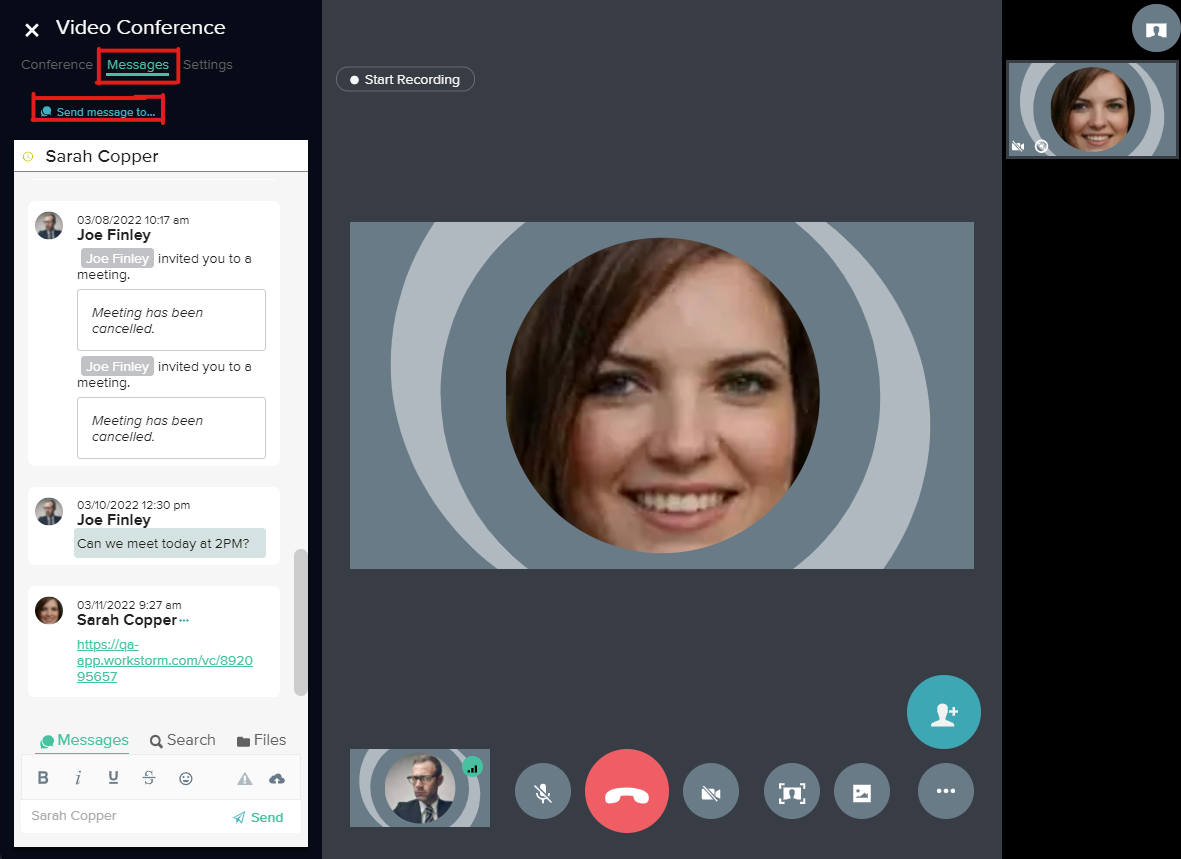 Conference chat is also available for users that don't have existing private messages with an attendee on the call.
Screen Sharing
For best performance, enable screen recording for your browser or desktop app in your operating system's settings.
To start screen sharing, click the Share Screen button highlighted below.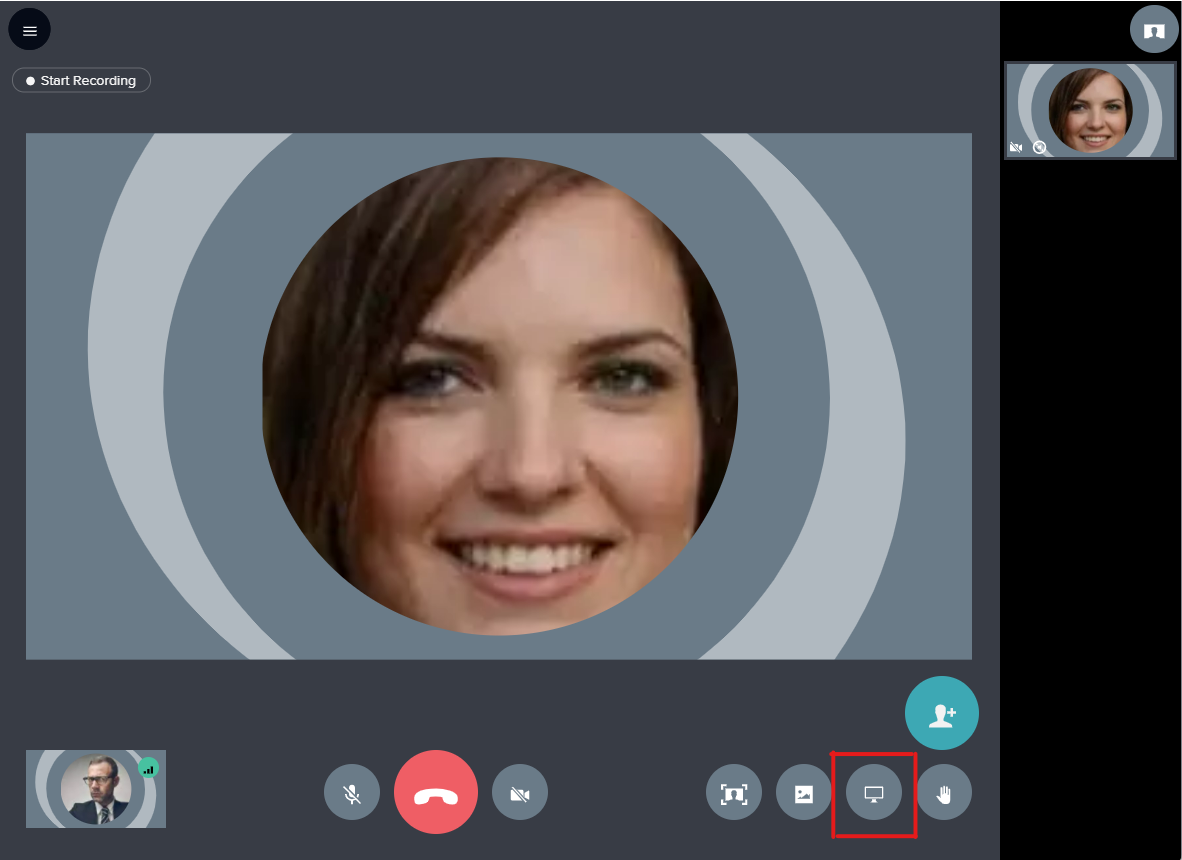 Make sure to select a screen, browser tab or app window that you want to share and then select Share. All of the attendees will now be able to view your screen share.
That's not all, Workstorm offers the ability for multiple attendees to share their screen at once. No need to waste time by having to get the presenter to stop sharing, request permission to share from the moderator and then start sharing yourself.