Instructions for hosting and receiving video conference calls and sharing your screen
At Workstorm, we understand that some business is best conducted face-to-face. Whether it's in a meeting, over lunch, or on the golf course, complex conversations can require the use of more than just typed or auditory words. Facial expressions, voice intonation, hand gestures, posture, even thoughtful breaks or pauses in a conversation can greatly impact how messages are sent and received by others. This, in turn, can impact a person's perceptions, beliefs and response to a given conversation.
But with busy schedules and geographically dispersed workforces, meeting face-to face isn't always possible. With video calling and screen sharing, Workstorm users can have complex conversations efficiently and effectively when meeting face-to-face in person isn't an option.
Start a video call
There are three ways to start a video call on Workstrom. The first way is to click on Messages in the left menu, then click on an existing Private or Team conversation. Once that conversation is expanded, click on the  icon in the right menu of the conversation feed to call a colleague or a Team.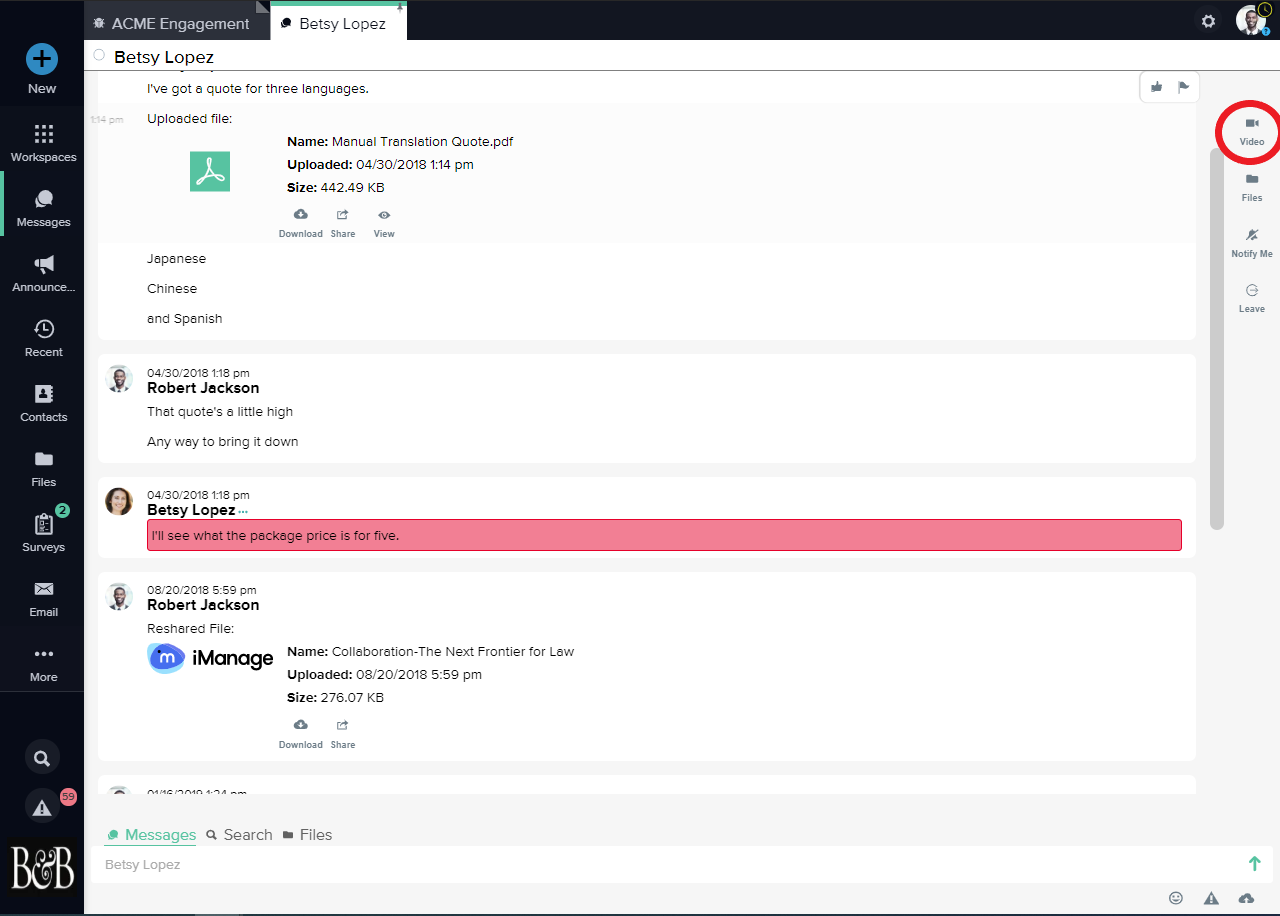 At the beginning of your first video conference in Workstorm you will see options to start with your camera enabled or disabled, as well as your microphone enabled or disabled. After selecting your preferences, you can choose to save these settings for all of your other video conferences on Workstorm or to enable these settings for this one particular video conference. If you choose the latter, you will see the video conference settings pop up on any subsequent video conference.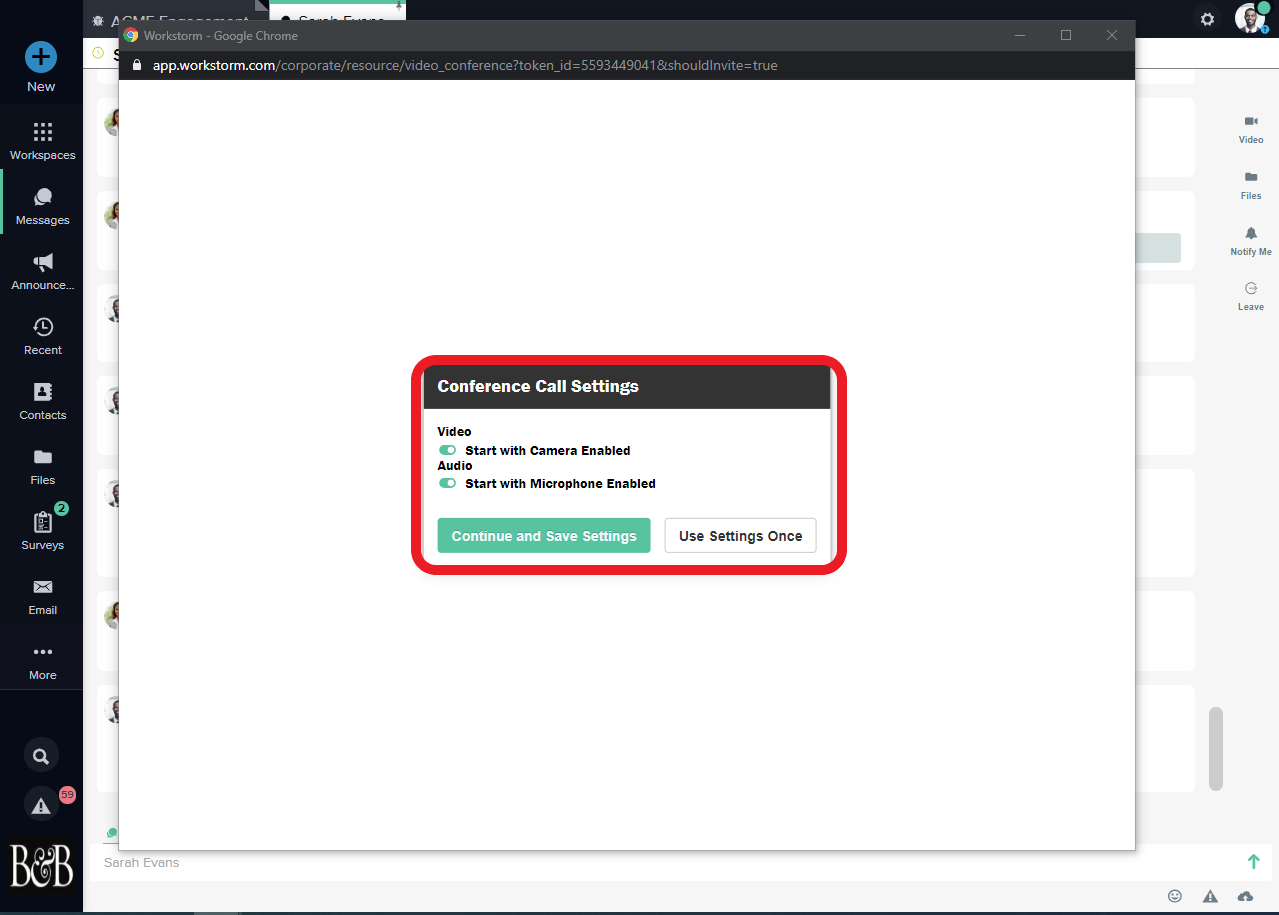 Access your video conference settings and change your preferences at any time by going to Settings and then Video Conferencing under App Settings.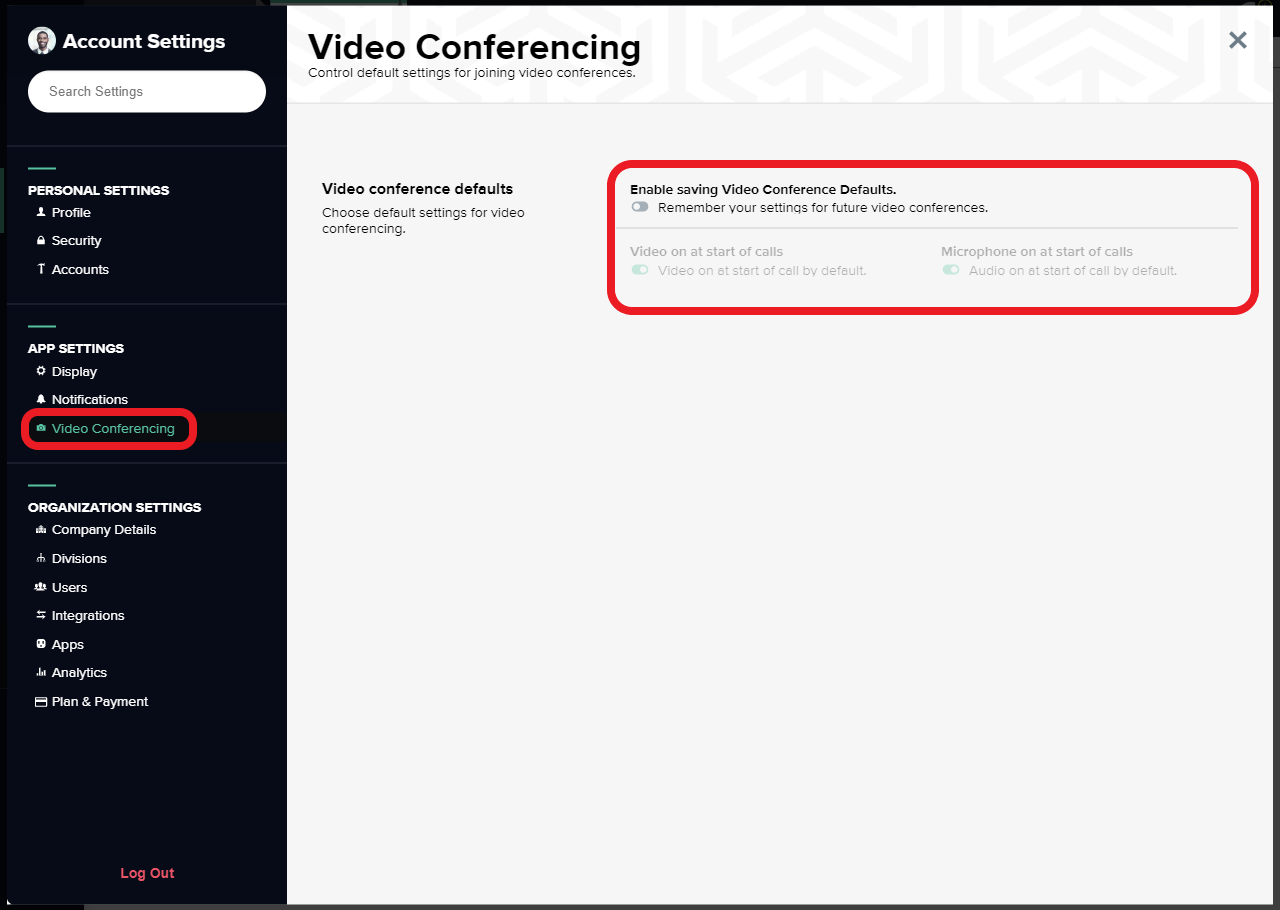 Another way to start a video call is through Workspaces.
If you have set up Workspaces, open the Workspace that contains an existing private or team conversation with a member or team you wish to video conference. Next, click on the  icon in the upper right corner of the conversation tile.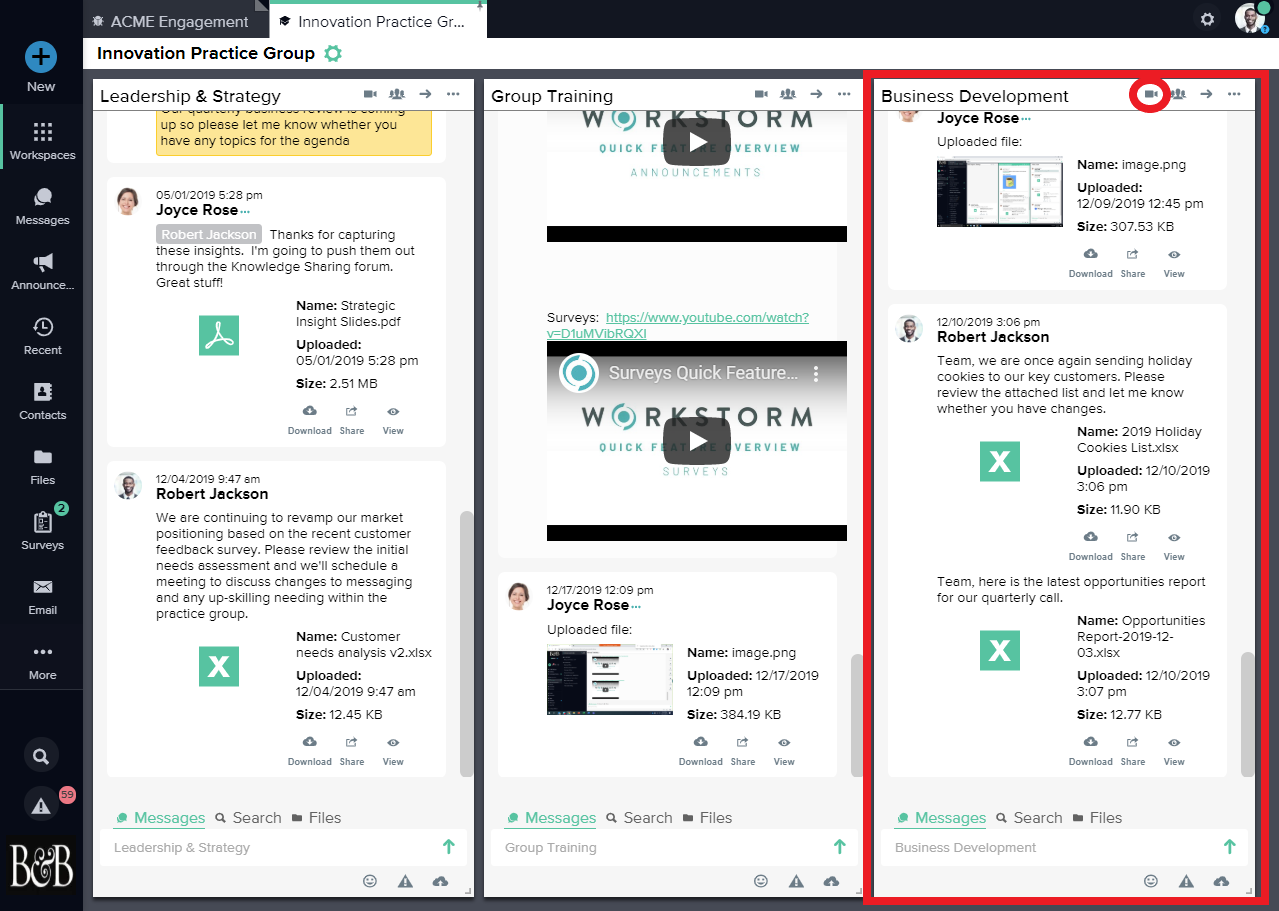 A video call pop-up will appear and begin calling the member or Team. If the member does not answer, you may cancel or end the video call by closing the call window or by clicking the  icon at the bottom. The recipient will see that he or she has missed a video call from you under Recent in the left menu.
If the recipient answers the video call, and his or her camera and microphone are turned on, you will see and hear the member. If you cannot see or hear the member, remind him or her to turn on the camera and microphone and allow access to Workstorm. Turn up the volume on your computer speakers to ensure optimal sound reception.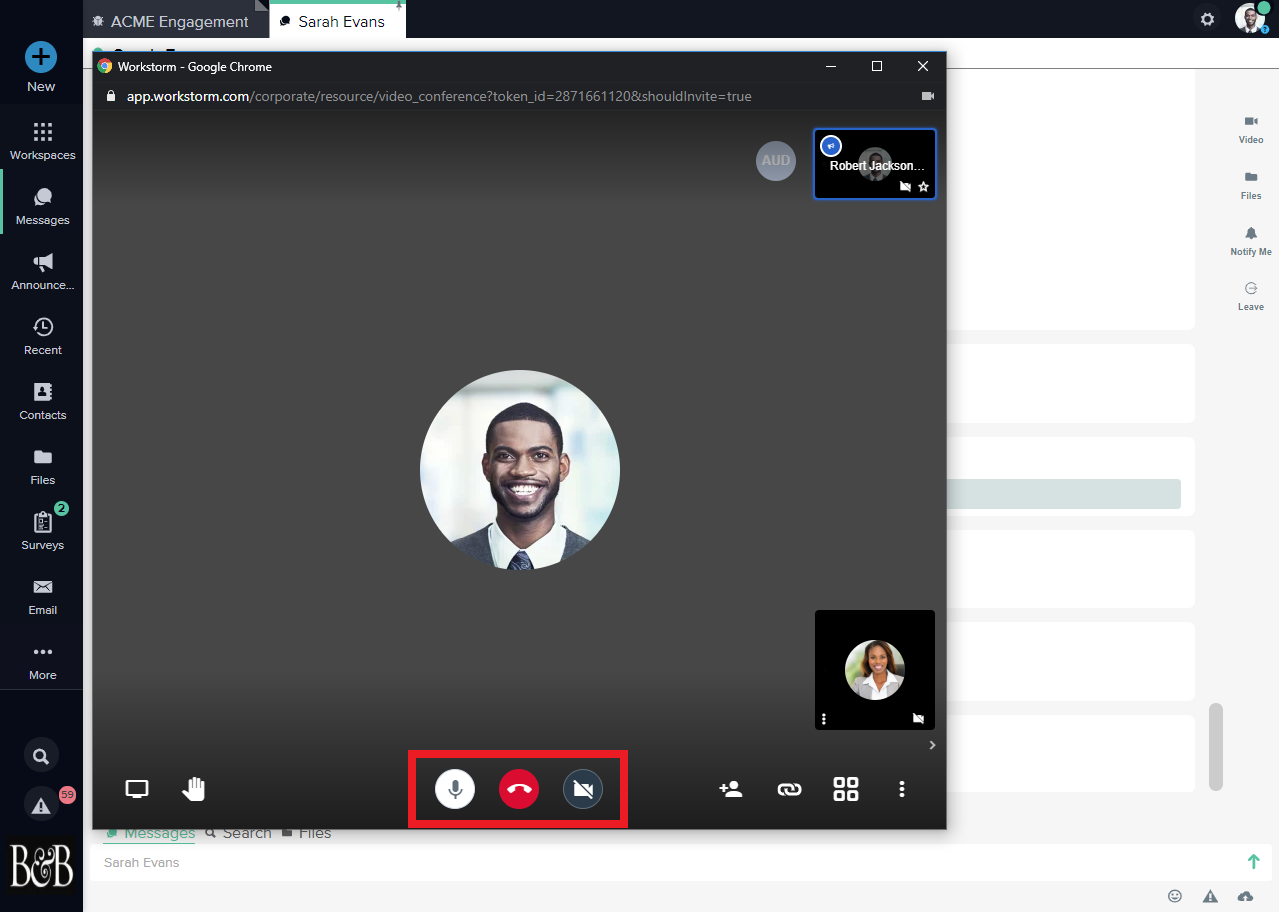 If the recipient of the call cannot see or hear you, double check that your camera and microphone are turned on. Our online support team is available for help at any time, should you need it.
Click the four tiles icon on the right side of the video call window to change the layout of the video conference and bring all the participants into a comprehensive tile view.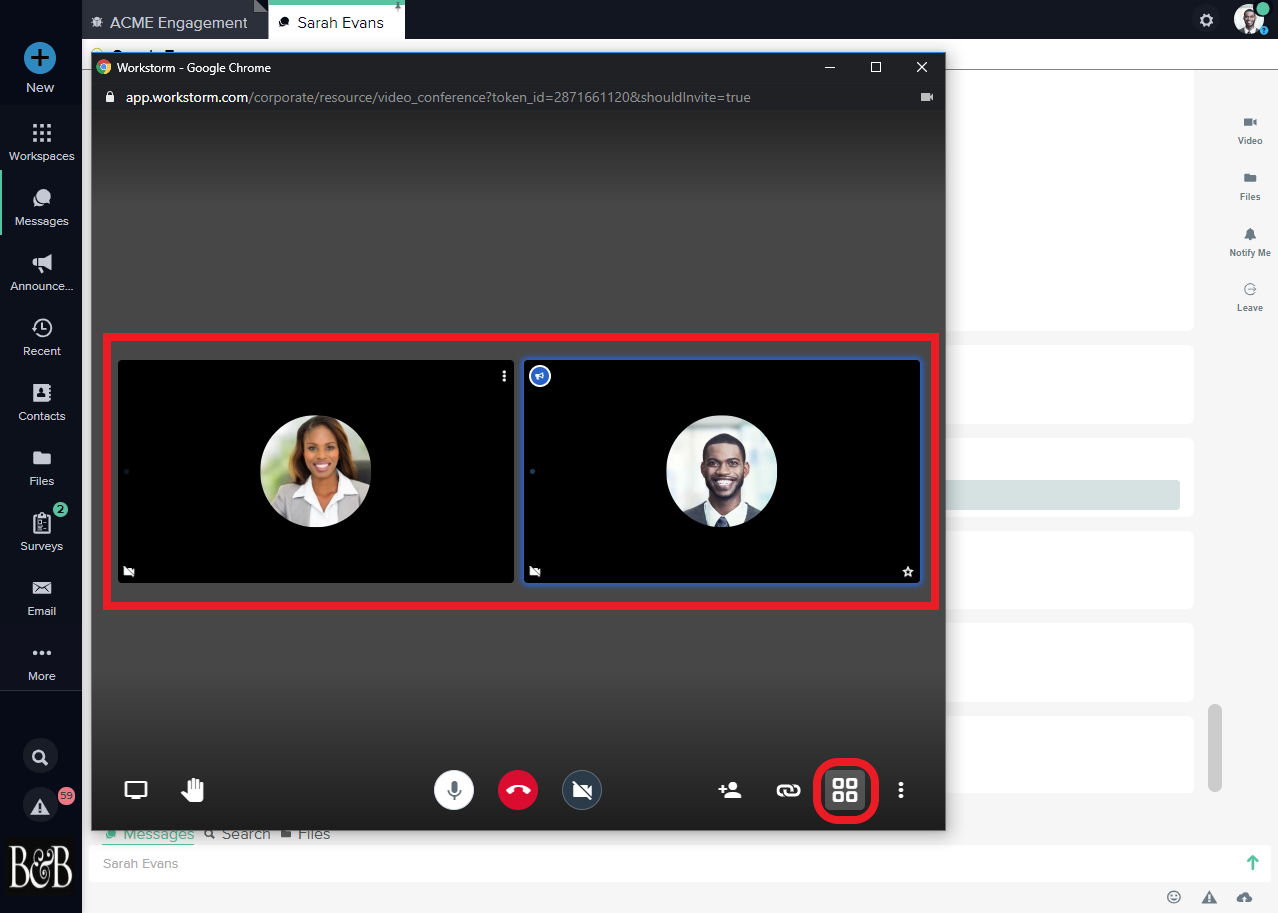 A third method of starting a video call on Workstorm is by clicking the Blue Plus icon at the top of the left menu and then Video Conference. Once the video call window pops up, use the provided search bar to find a member/s to invite to the call. Click on their name when they pop up and select Send Invites when you're ready to add your colleague/s to the call.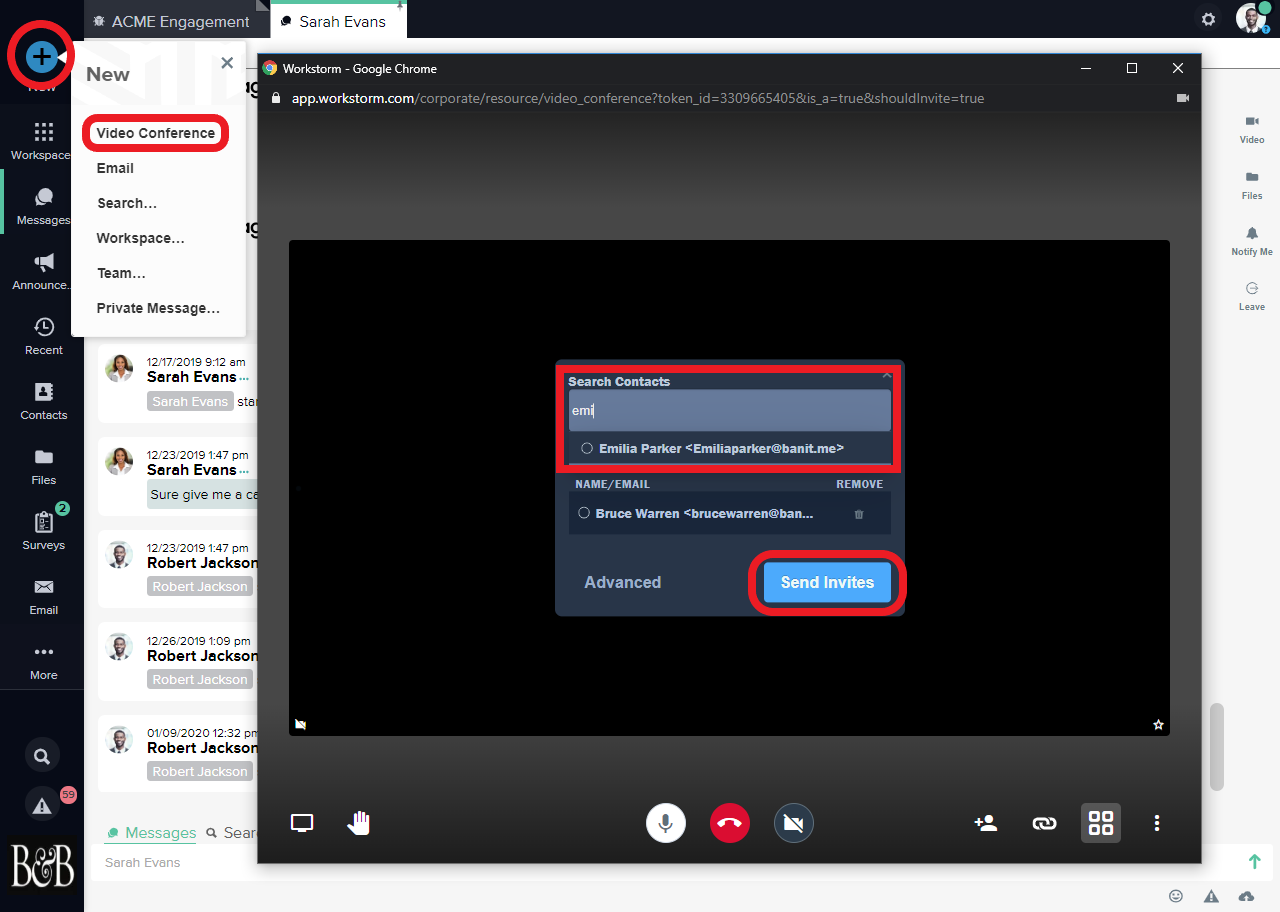 If you have integrated your Calendar and Email, click on Advanced to see options to schedule a video call for a later date and time.
Invite additional call participants
To invite additional participants to an active video conference, click the invite icon at the bottom right next to the chain link icon. Search for member/s you wish to join in the provided search box, select their name/s and hit Send Invites to invite them to the call.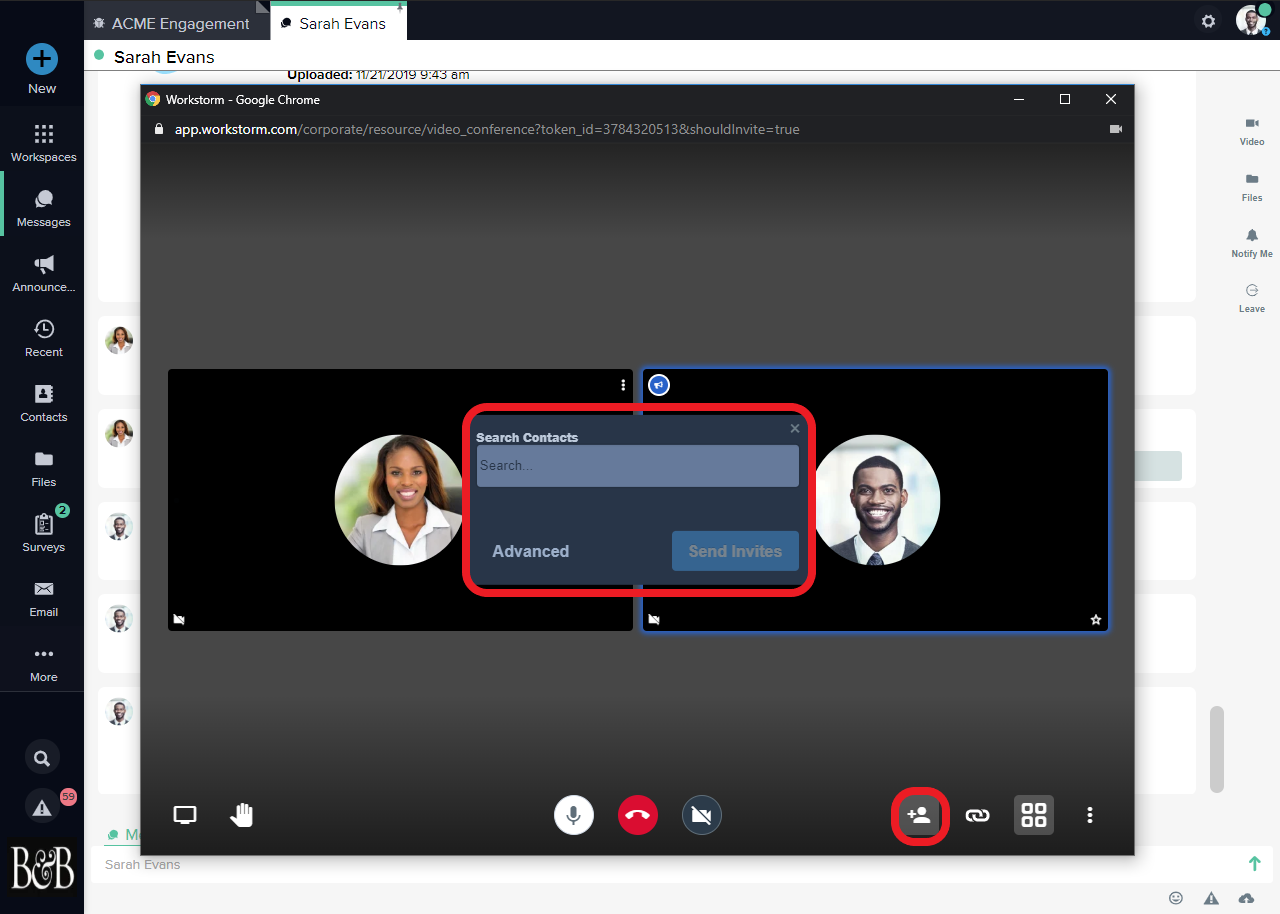 If you wish to invite someone who is not a member on Workstorm, simply click the chain link icon to bring up Dial-In information and the link to the video conference that you can copy and share with the client you wish to invite.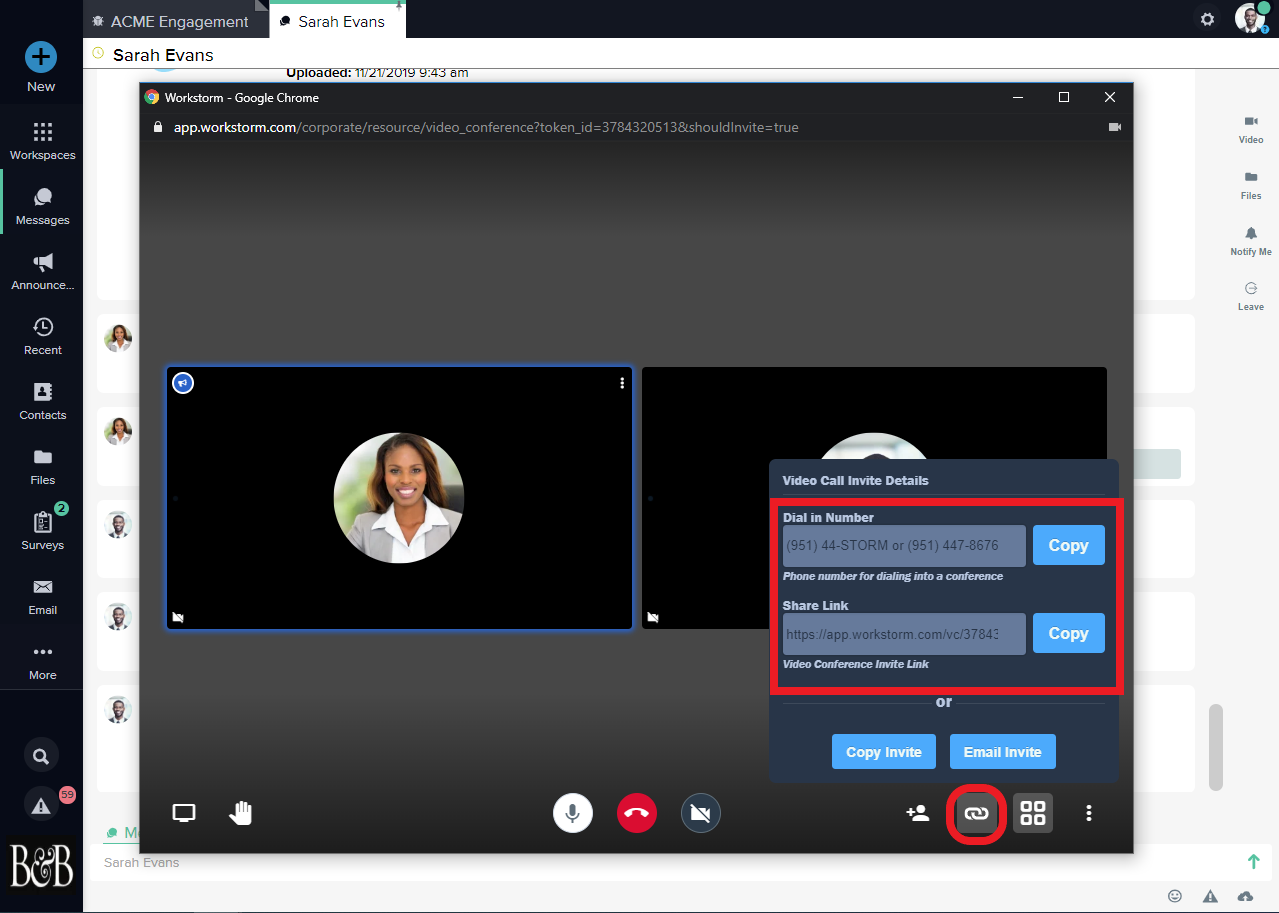 If you would like to copy both the Dial-In number and video conference link select Copy Invite to paste it in a subsequent message or email. Click on Email Invite if you would like a new email window to pop up with a pre-formatted Dial-In number and video conference link added to the body of the email.
Managing conference settings
Every video conference has a moderator, which is designated by a star next to the participant's name. Moderators can update the video call settings by clicking on the ellipsis in the bottom right of the conference screen.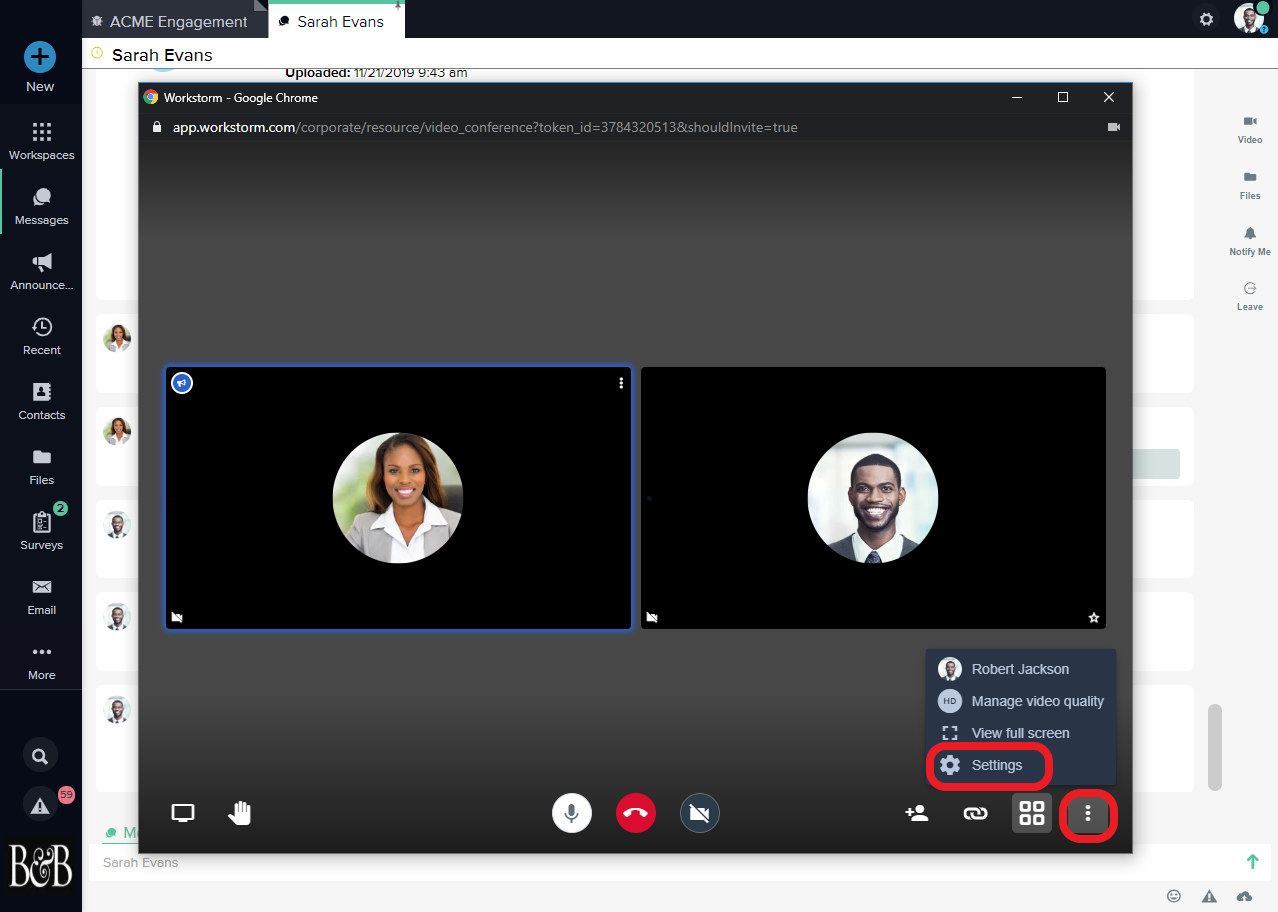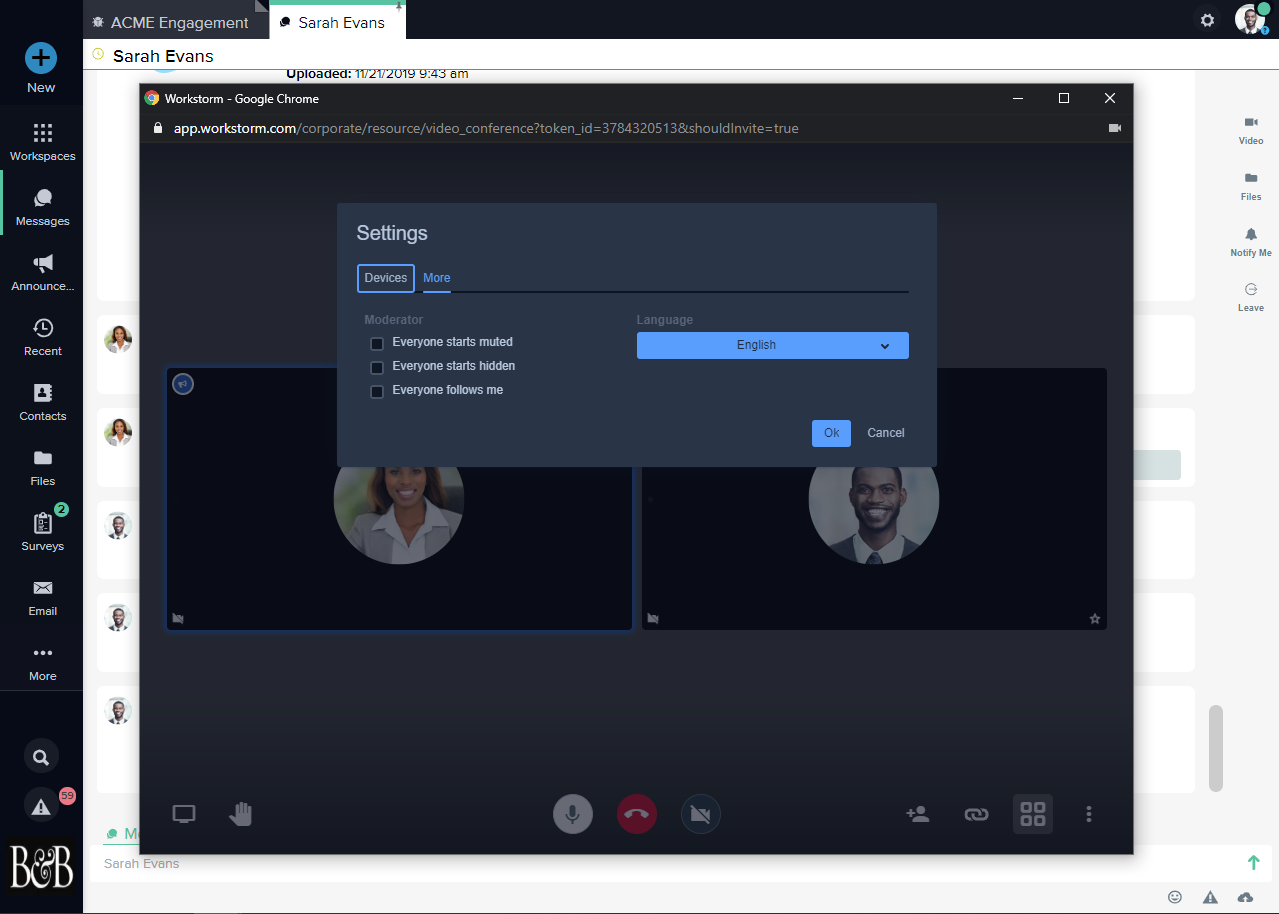 General participants can also change their personal conference settings by clicking the ellipsis, including changing the microphone settings, camera source, call quality, or the size of the screen view. 
Moderators can also remove members from the video conference or mute them, if necessary. Click on the ellipsis at the top right of the member's video preview window.
Answering a video call
To receive an incoming video call from another member, you must be logged in to Workstorm. A pop-up will appear to notify you of an incoming video call.
To answer an incoming video call, click on Join in the toast that pops up at the top of your screen. To decline the call, click Ignore.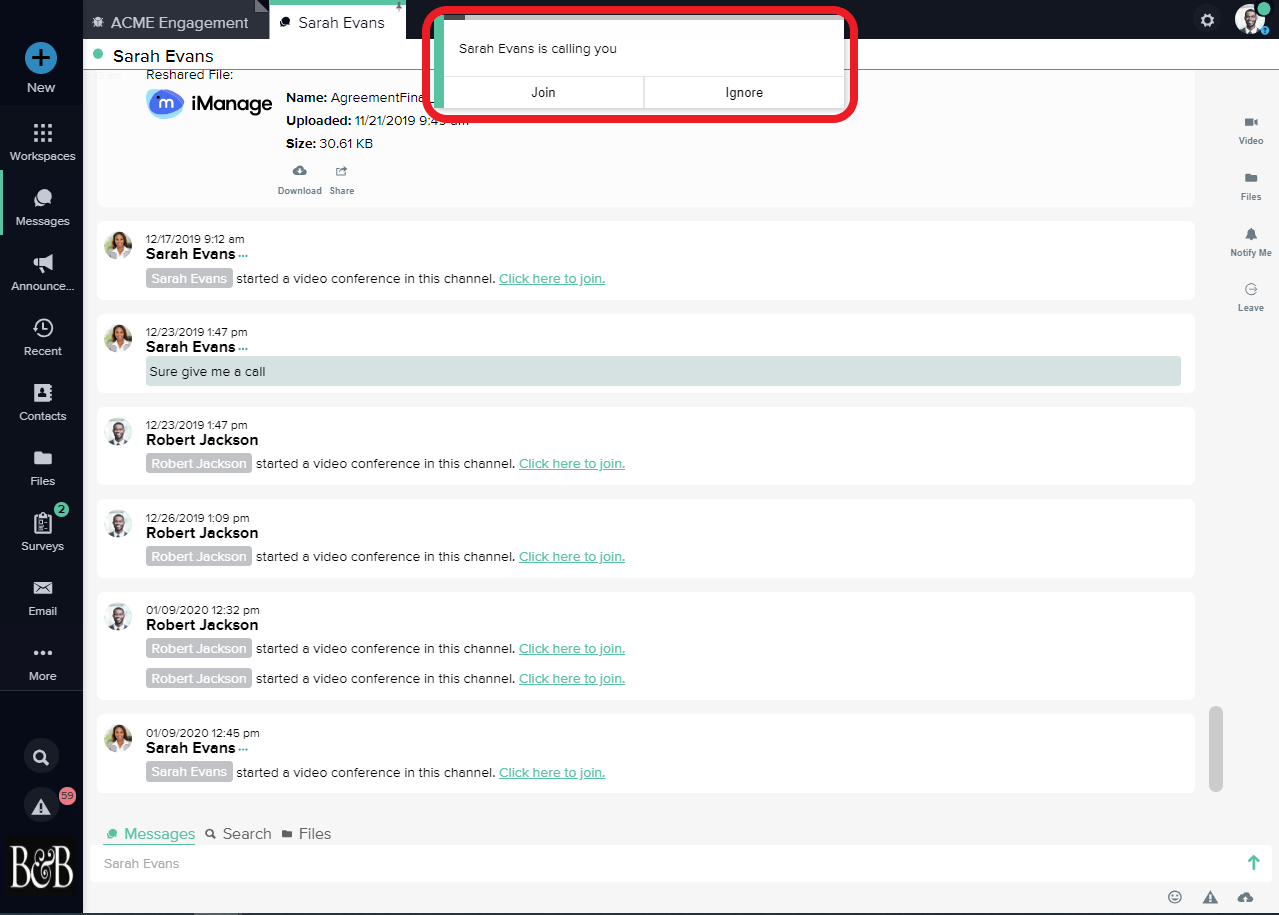 You can also join a video conference by clicking on the Click here to join link that will pop up in the conversation where the video conference invite originated.
Missed video conferences
If you are not inside the Workstorm platform when the user calls, and you have enabled Notifications, then you will receive a Notification of the incoming call on your desktop. Clicking on the notification will take you to the private conversation, where you may answer or decline the call.
If you have not enabled Notifications, you will receive a message in your Recent tab and within the conversation the video call originated from making you aware of the missed video conference.
Sharing your screen
Once you have connected via video call, you have the option to share your screen. Click the  icon at the bottom left of the call window to switch from camera view to screen view. Pick the full screen option to share your entire desktop. You can also choose an application window or a web browser tab to share.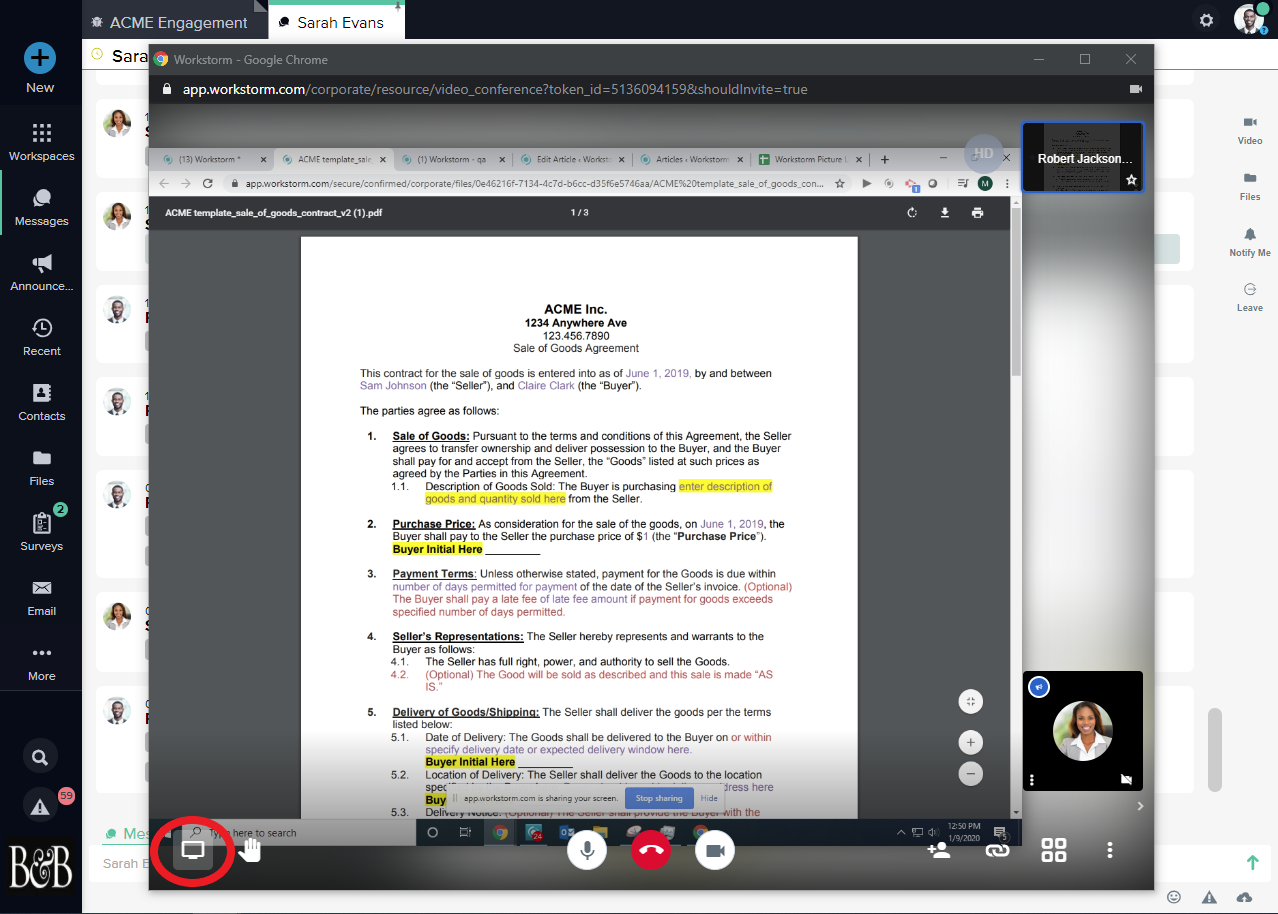 Picking one of those options will show the other members on the call exactly what is on your computer screen depending on what option you chose – full screen, an application window or a browser tab. While you're screen sharing, you will still be able to communicate with your colleagues with your voice over your computer or camera's microphone. You can click, type and navigate as usual, with the other members able to see and follow along.
To stop sharing your screen, simply click the  icon again to return to camera view.
Note: For Workstorm users that have updated their Mac OS to Catalina (released Oct. 7, 2019), you will need to follow the on-screen steps that pop up when sharing your screen on Google Chrome for the first time after the software update. 
Click on Open System Preferences.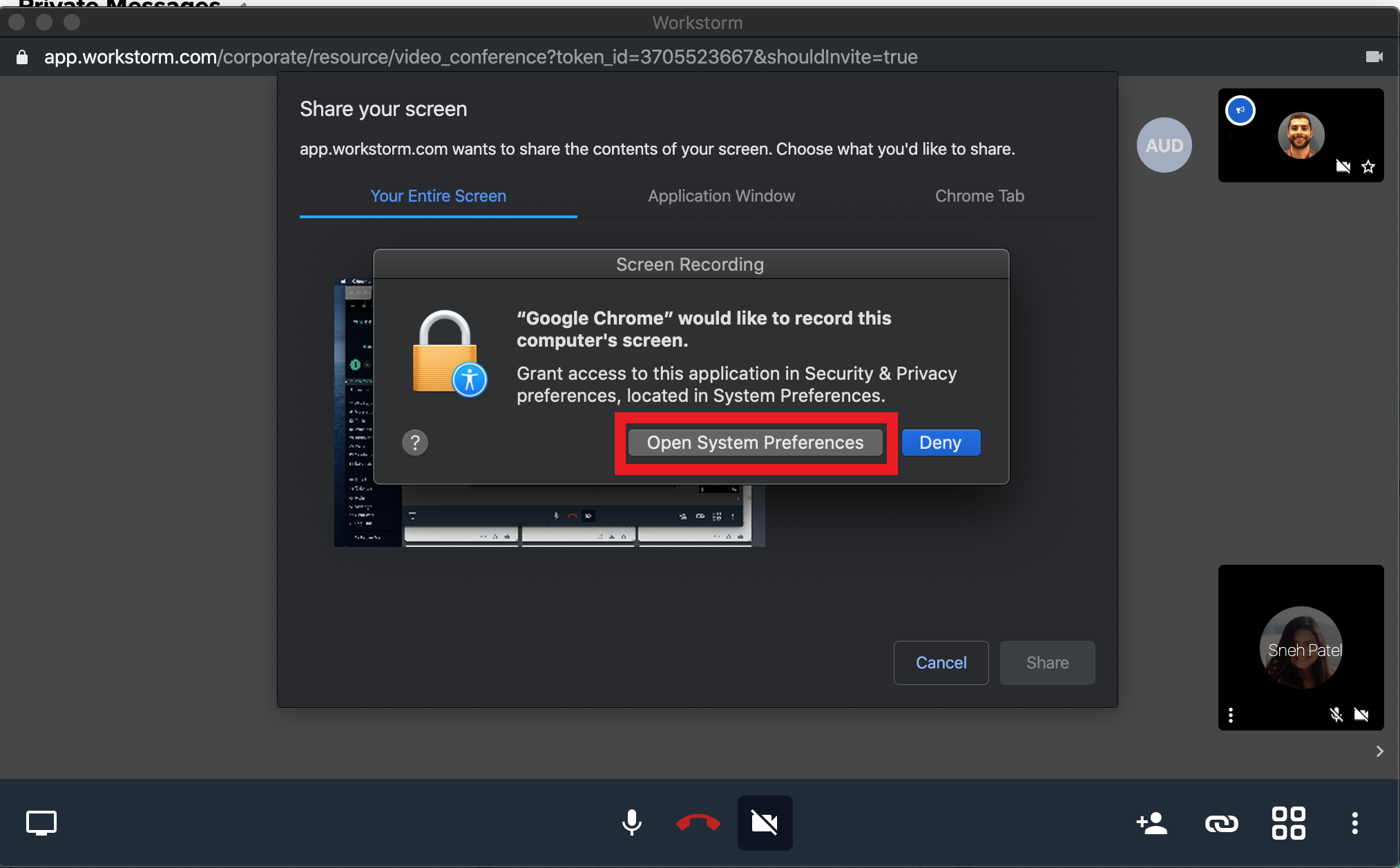 Click the lock on the bottom left of the pop up and enter your Mac password. Check the box next to Google Chrome to allow for screen sharing in Workstorm.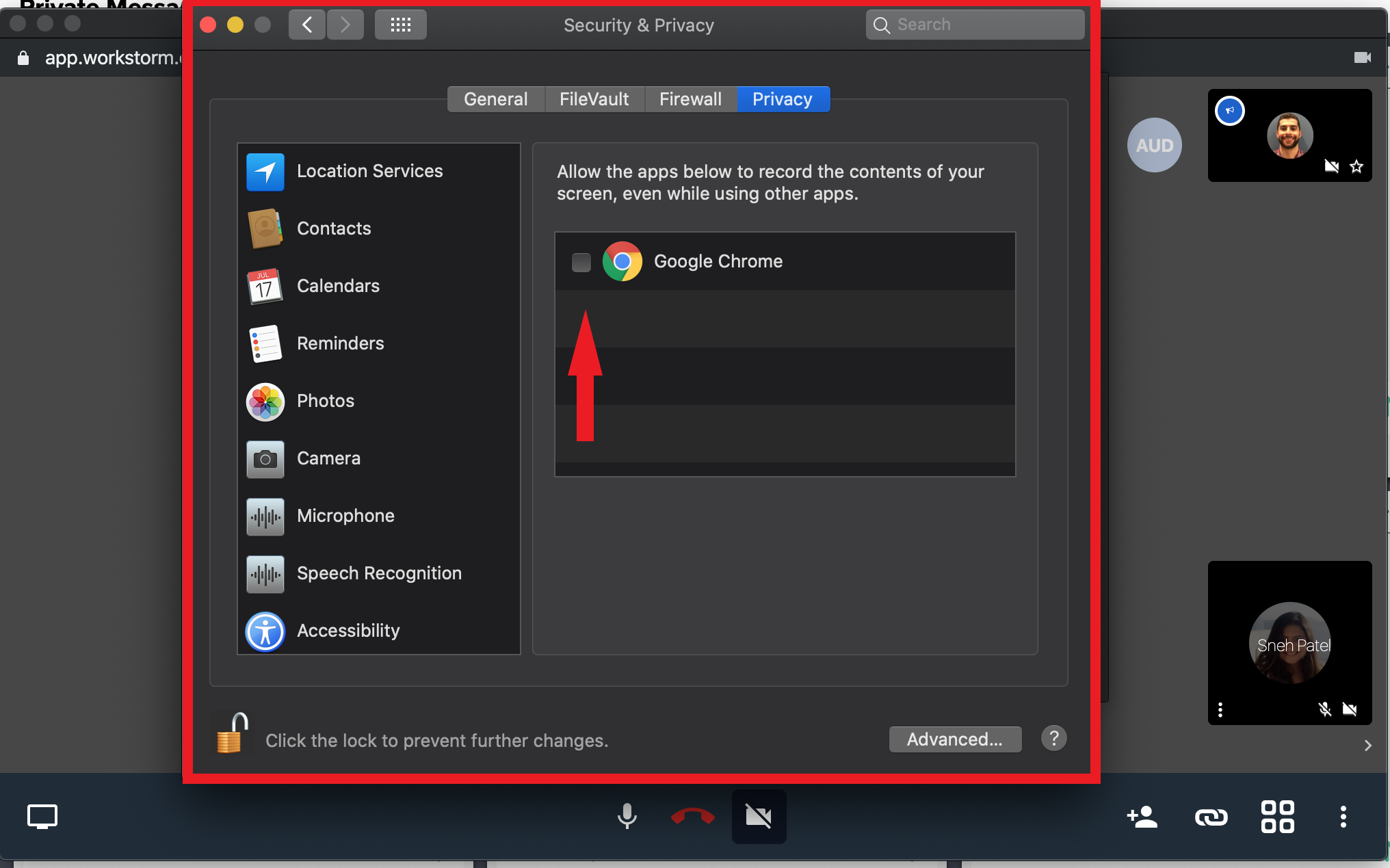 Screen sharing and video calling can help members collaborate more efficiently and effectively on complex projects, discussions and business decisions. Workstorm members who integrate the use of multiple tools – including messaging, file sharing and video conferencing – report the highest levels of workplace collaboration and efficiency. Ready to give it a try?