How to find and access Recent activity?
Detailed instructions for finding and accessing Recent activity in Workstorm
From the latest messages, video calls, and files, to new announcements, alerts, and teams, the Recent feature in Workstorm helps you quickly access your most recent activities and never miss a beat. Essentially, Recent functions as a play-by-play account of everything that happens in Workstorm involving you. As a result, many members use the Recent feature as their go-to resource for the latest news and updates every time they log in to Workstorm.
For example, Robert relies on the Recent feature to remind him of the latest tasks he needs to address throughout the day. Say Robert logs in to Workstorm first thing in the morning and sees a message from Cindy awaiting his response. As he is reading and responding to Cindy's message, his client Rhonda sends him an urgent message Alert. He responds to the urgent client question and then tries to remember what he was doing before the interruption. Robert looks back at his Recent tab and sees the message from Cindy. Ah yes, he needs to finish responding to Cindy. Meanwhile, Rhonda sends Robert the file she just asked about, which appears at the top of his Recent tab. Robert knows the file is awaiting his review once he is finished responding to Cindy.
Robert's use of the Recent feature is common for many Workstorm members, helping them move fast while staying on task. Now, let's take a quick look at how to find and access your Recent activity in Workstorm.
Accessing Recent activity
To access your Recent activity, select Recent, or the  icon, in the left menu. This will open a list of all the recent activity involving your member account on Workstorm. Examples might include recent private or team messages; files uploaded or re-shared; company-wide or Division announcements; alerts and more.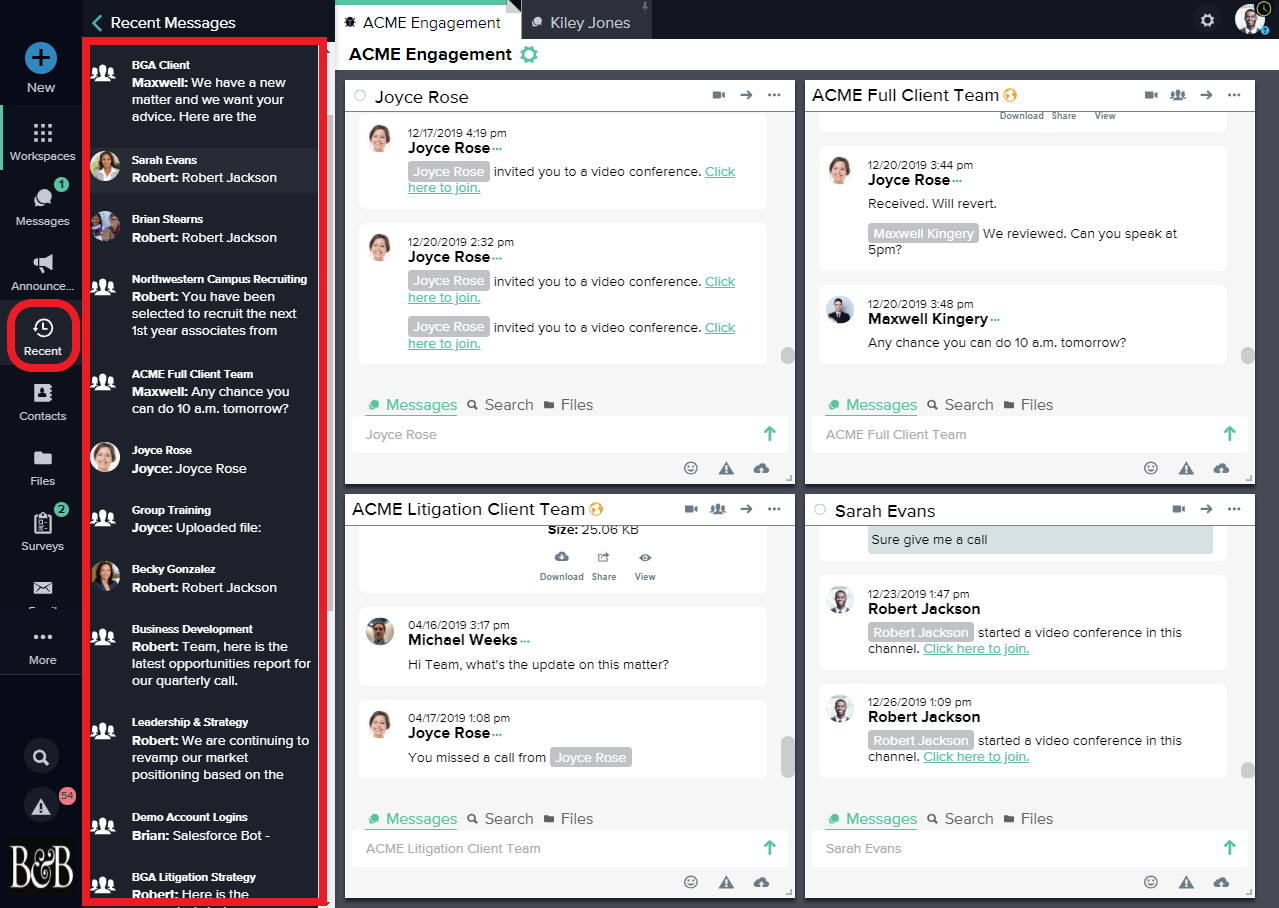 Simply click on a recent activity or action item in the list to open it in full window view. From there, you can review or respond to the activity as desired.
With the Recent feature, you can quickly access a snapshot of all your latest activities, helping you keep up to speed and ready to dive in.