Private Messages
An introductory overview of how to send private and urgent messages, share files, start video calls, use @mentions, reactions, Emojis, and much more
Private messaging is the most commonly used function within the Workstorm platform. It enables you to collaborate with colleagues one-on-one by sharing information, files, insights and more in a secure online environment. This article describes the various features available within the Private Messages function and how to use them. To get started, log in to Workstorm, or learn how to set up a Workstorm account.
Sending Private Messages
Once you are logged in to your Workstorm account, open the private messaging function by clicking on Messages in the left menu, then on Private. If you have existing private messages, you will see them listed by the name of each individual with whom you've had a conversation. To continue an existing conversation, simply click on the individual's name to expand the messaging window.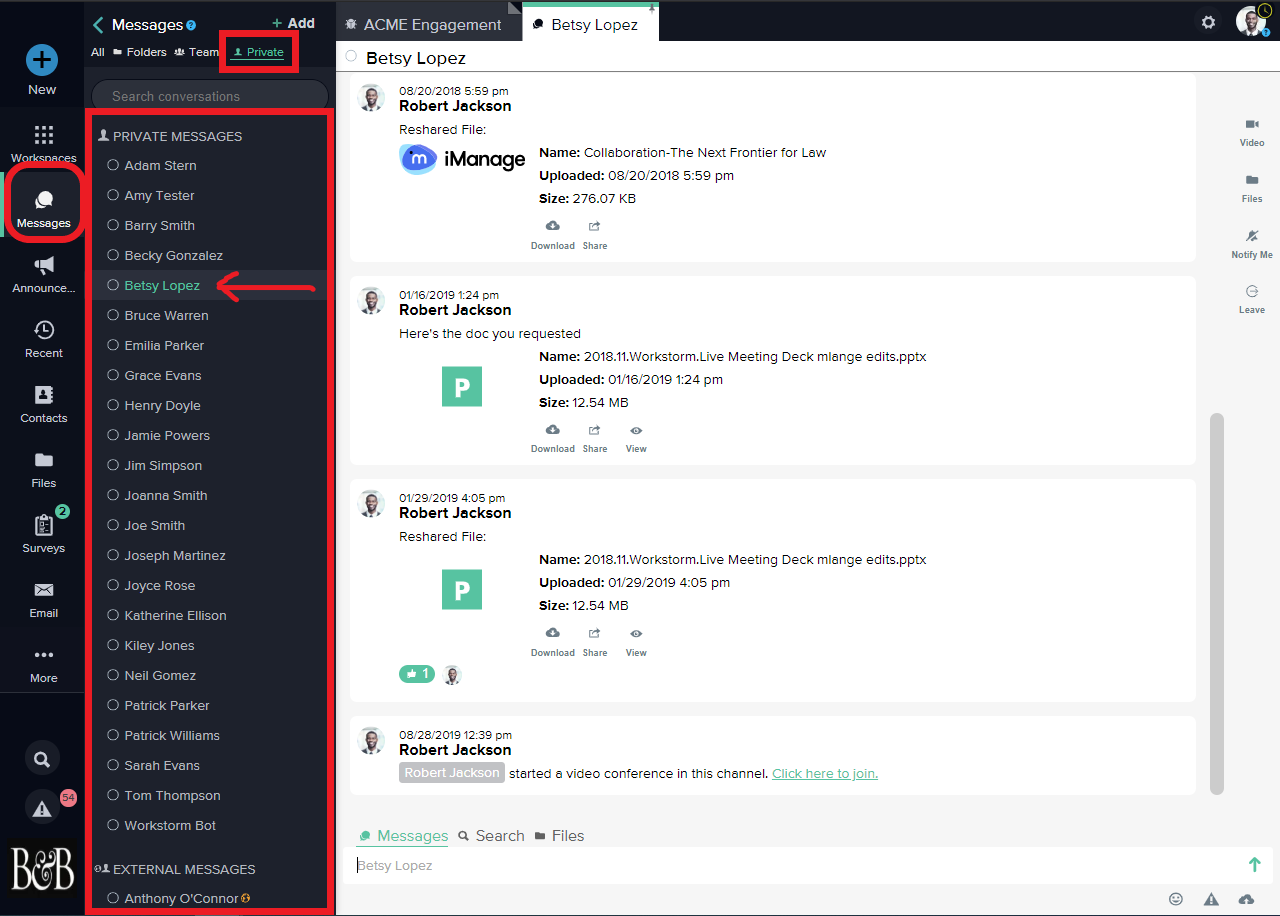 To start a new private conversation, click on the large Blue Plus icon at the top of the left menu or click on Add located to the right of the word Private in the Messages menu. Select Private Message to bring up a New Private Message window. Search for a company member in the provided text box, select them and click on Create to start a private message. If you have permission to invite new or external members, an Invite by Email button will appear below the search bar.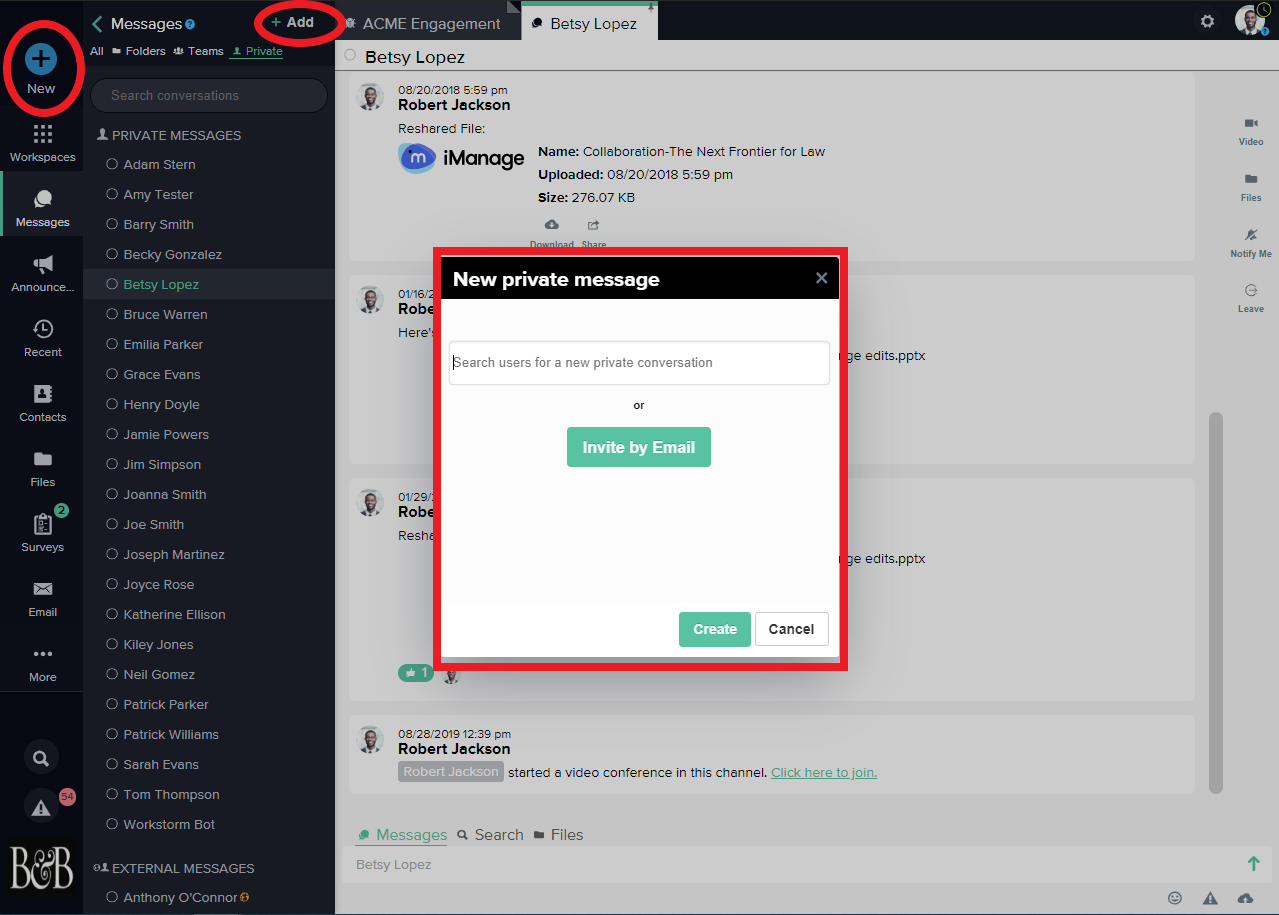 Note: If you do not see the
Invite by Email
button, contact your site administrator to request the new member to be added to your company's account. For more details on inviting new members, see our article on
inviting members
.
To send a message, type into the message box at the bottom. Then, press Enter or click on the green Send icon. Your sent message will appear in the conversation feed above.
The conversation feed is where you can view and scroll through your entire conversation with one individual, whether that conversation turns out to last a few minutes, days, weeks, months or years. Workstorm automatically and securely saves your history (in alignment with your company's policies and settings), so you can refer back to any message at any time.
Search within a conversation by clicking the  icon above the message box. For more tips on how to search for messages and files within a conversation and elsewhere, check out this article on using the search function.
Sending Files
Private messaging also enables you to securely share files with another member.
Start by clicking on the  icon to the right of the message box. This will open the File Uploader where you can choose to upload a file from your Desktop, Workstorm File Repository or any of your integrated DMS solutions. You can also open the File Uploader by simply dragging and dropping a file into the message box.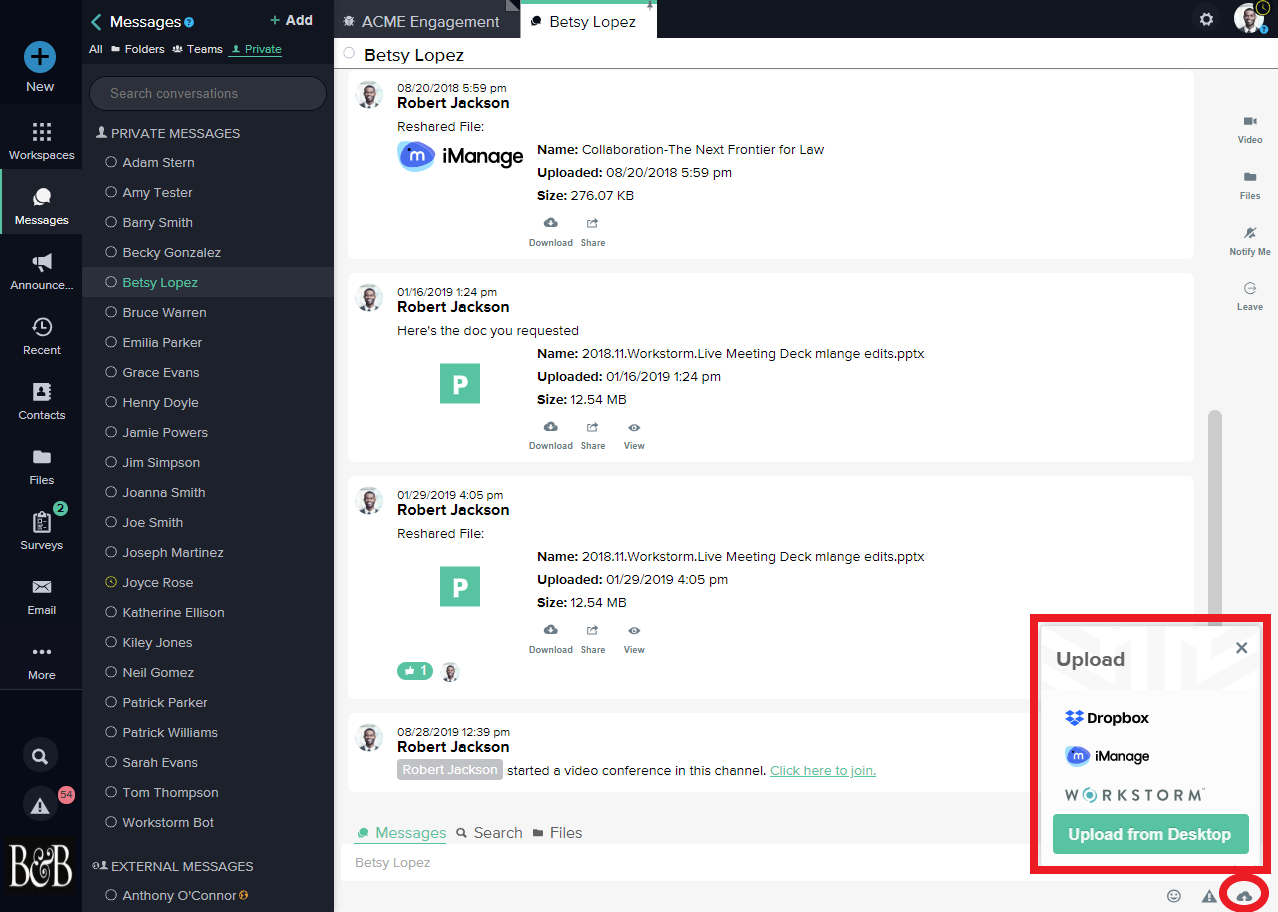 Once you have selected a file for upload, a text box will appear inside the File Uploader. Here you may add a comment to accompany your file or you can select Add Another File if you want to upload an additional file to the conversation at the same time.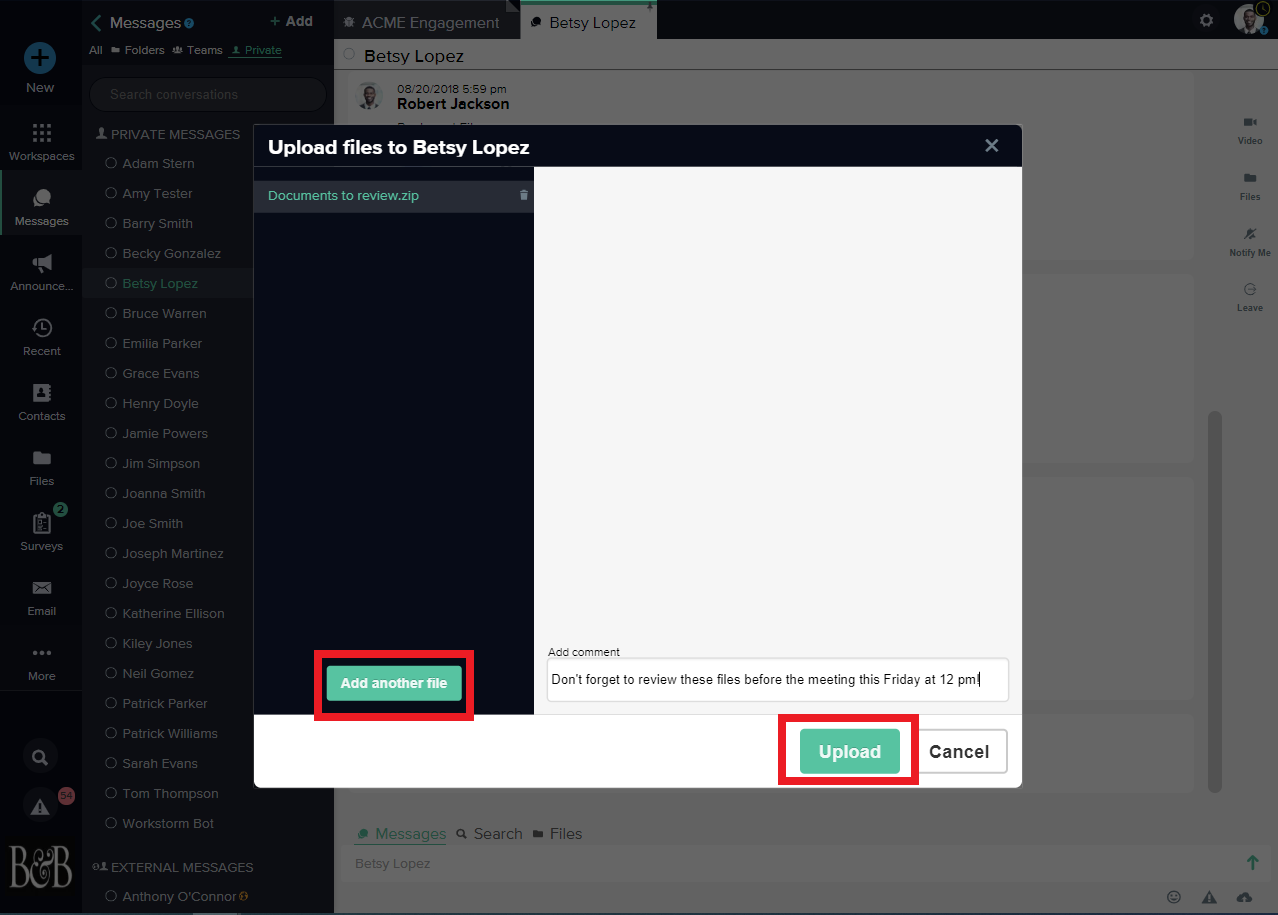 Share the file/s by clicking Upload. 
Once a file is either shared by or with you, it can be downloaded, re-shared and previewed from the conversation feed. Download a file from the conversation feed by clicking on the  icon. Re-share a file by clicking on the  icon, and then selecting a member with whom to share the file. Preview a file by clicking on the  icon.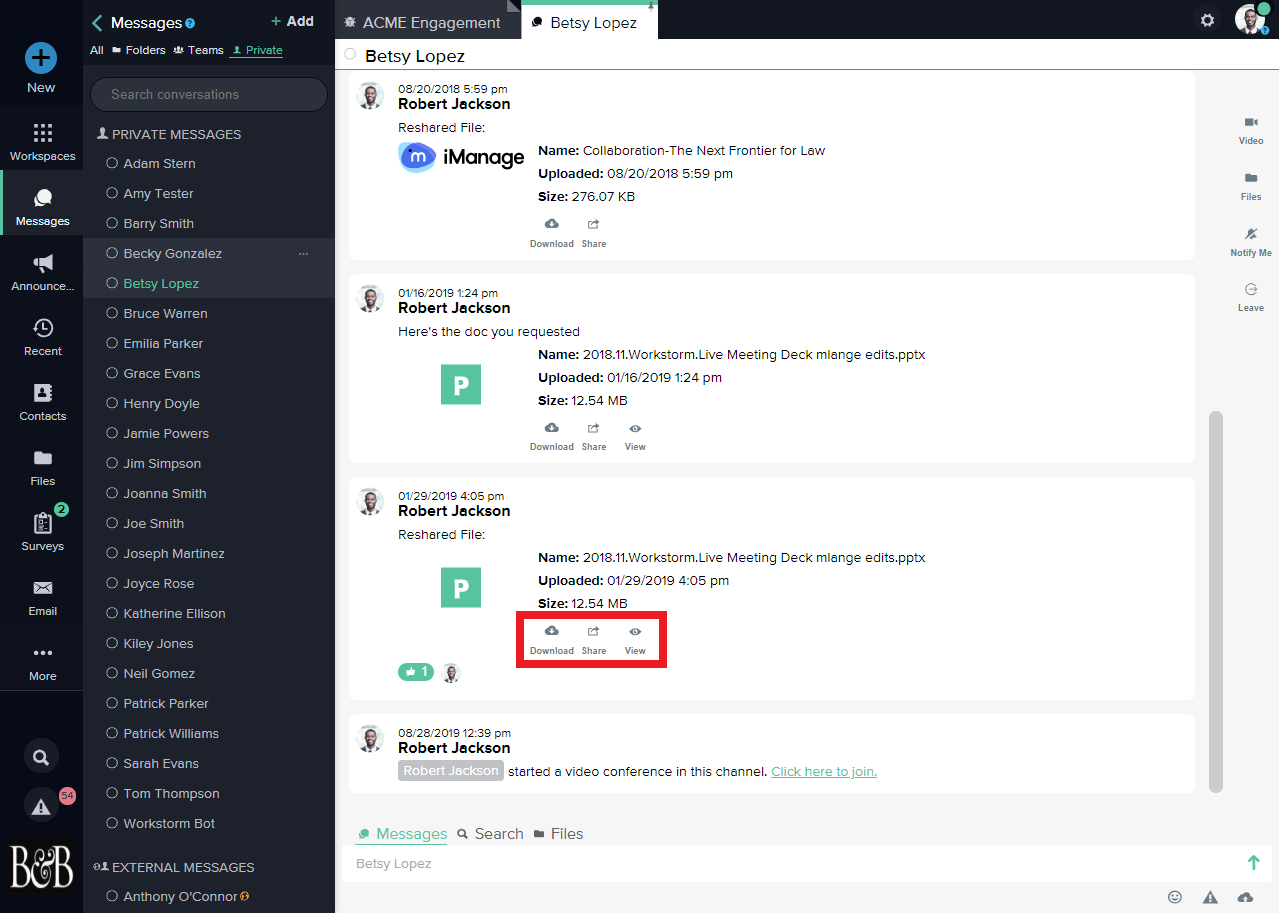 All files uploaded by or shared with you can also be found in your Workstorm File Repository in the left menu. You may upload, share, view and search for files here, as well. If you'd like to learn more about about storing and sharing files, check out our article on secure file sharing.
Sending Urgent Messages and @Mentions
Send a message as "urgent" to trigger both a Toast and an Alert to the recipient.
A Toast is a real-time pop-up that overlays the recipient's message screen, bringing immediate attention to the urgent message while the user is active in Workstorm. Alerts appear more persistently, yet passively, in the left menu when administrative updates or messages occur, or when a member:
Receives an urgent message

Receives an @mention in a conversation

Gets added to a Team conversation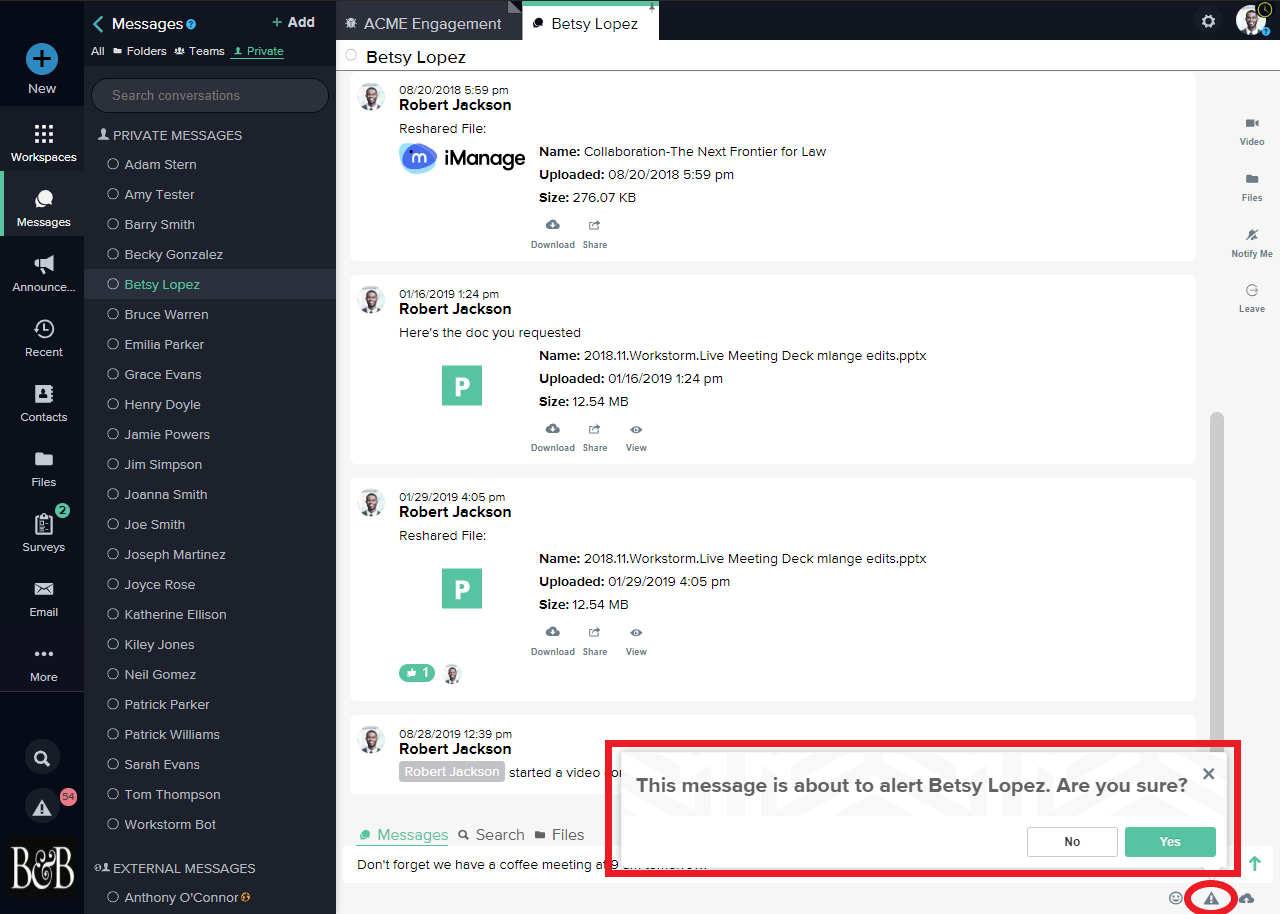 To send an urgent message, instead of pressing Enter on your keyboard, click the  icon inside the message box. This will prompt you to send the message marked as "urgent," instead of sending the message as normal. Once sent, the recipient will receive an Alert in his/her left menu, as well as a Toast, calling attention to the urgent message.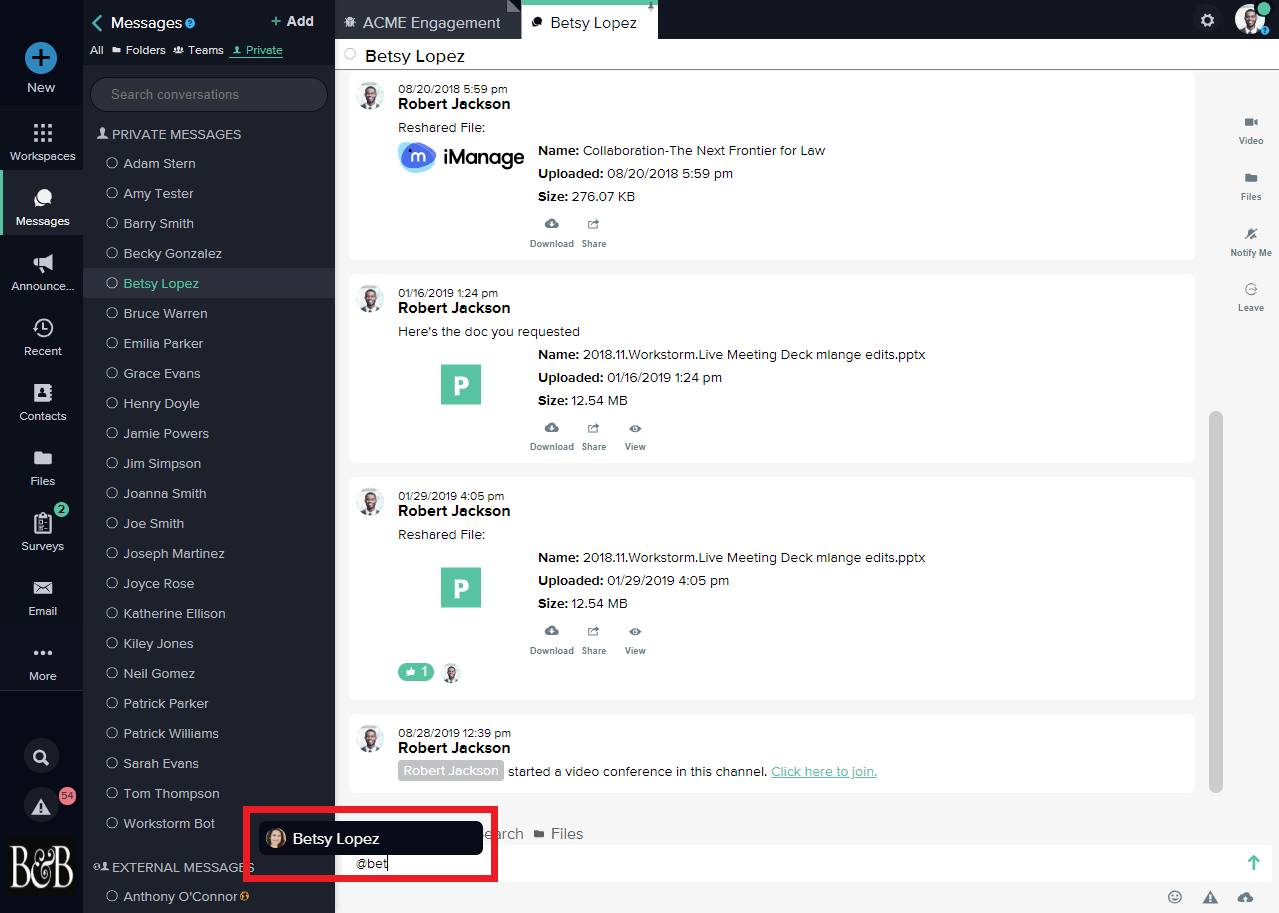 Hyperlinking a member's name in a message using an @mention is another way to trigger an Alert. To do this, type "@" followed by the first few letters of the member's name. A dropdown list of members will appear above your cursor. Select the member from the dropdown list and his/her name will be replaced by a hyperlinked @mention.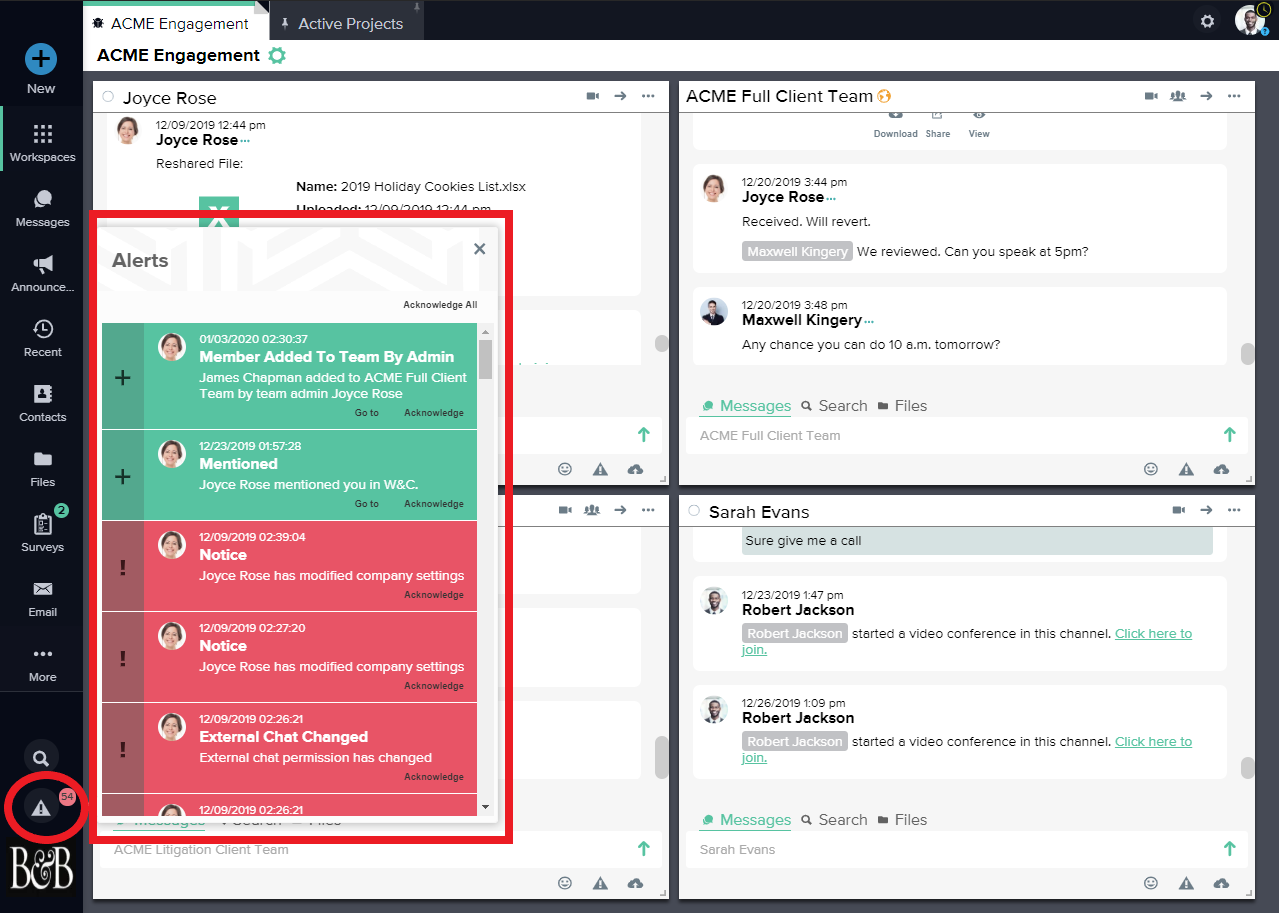 If you are the recipient of an Alert, click on Go to within the Alerts menu to be re-directed to where the alert originated. To dismiss an alert, either click on Acknowledge or Acknowledge All, to dismiss all alerts. For more information on Alerts, check out our article on using Alerts.
Sending Emojis, Videos and GIPHYs
Consider adding Emojis to your messages to help convey tone or emotion.
To select an Emoji, click on the  icon to bring up the Emoji menu, or type ":" and a few letters for a list of suggested Emojis. Choose the Emoji that best fits the tone or emotion you're trying to convey, and it will be added to the body copy of your message.
Share a YouTube video by copying and pasting the video's URL into the message box. Press Enter to send the message. The video will automatically embed and populate for viewing within the conversation feed.
To embed GIPHYs (or animated images) into your conversations, type "/" and select the GIPHY pop-up above the message box. Then type the word you wish to convey as an animated image and press Enter to send the message. The GIPHY feature will automatically select an animated image at random that represents the typed word and embed that image for viewing within the conversation feed. If the GIPHY feature does not populate, contact your site administrator. This feature may be enabled or disabled based on company policies and settings.
Using Reactions and Flags
To confirm receipt of a message or to simply show that you "Like" or agree with a message, click the  icon that will appear in the upper right corner of a sent message if you hover over that area. Your reaction will be visible to the message sender.
You may notice a  icon next to the  icon. Flag and/or color-code important messages for yourself to help you categorize and find those messages later. Here's an example of what it would like to flag and like a message: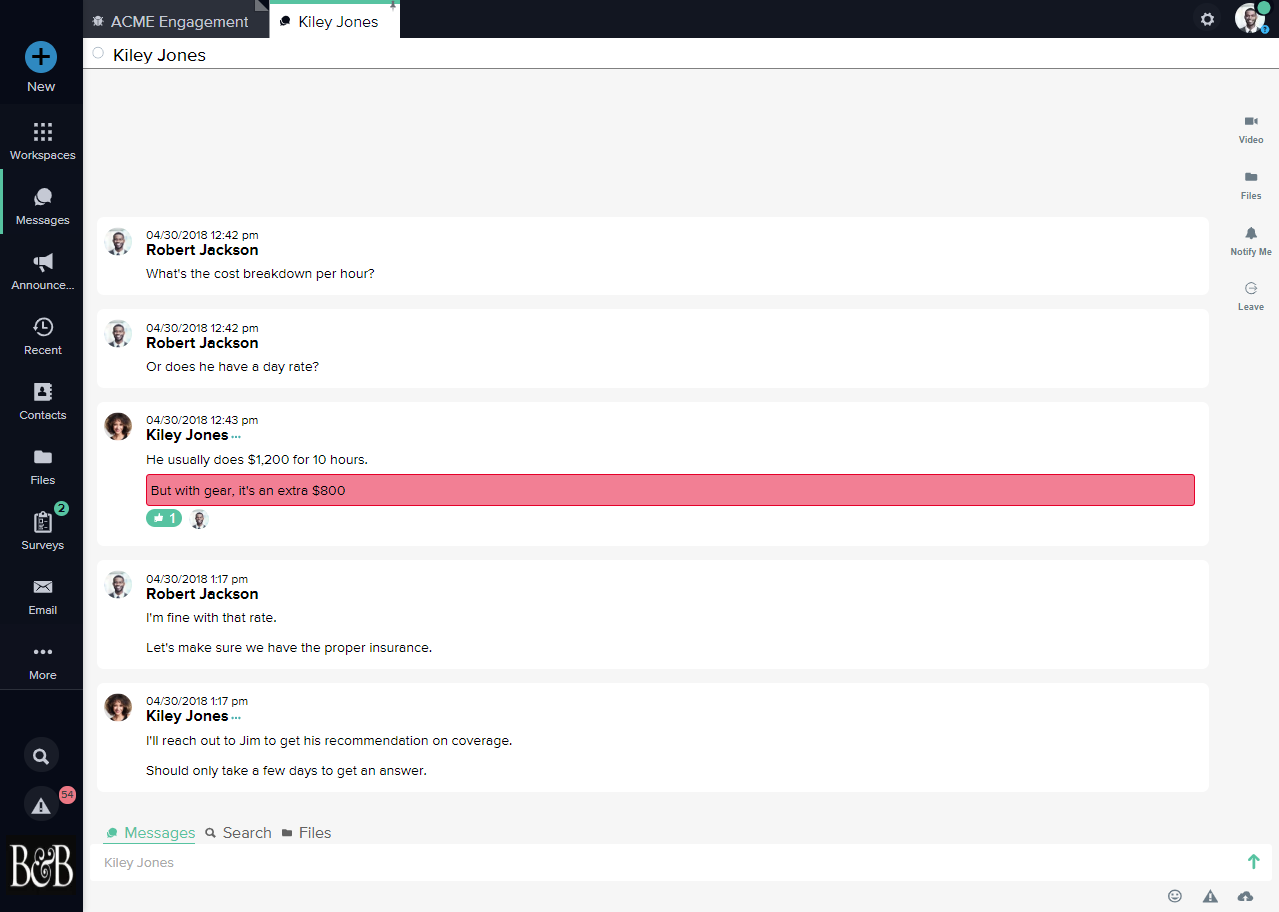 To find a flagged message, search by clicking the  icon above the message box. Then, click on the  icon on the right inside the search box. Choose a flag color you want to filter for and select Filter Search Results. Learn more about search optimization with our article on using flags and other available search features in our global, conversation, and advanced search options.
Video Calls
Start a one-on-one video call or share your screen with another member by selecting the  icon on the right toolbar within a private conversation. Find detailed instructions on using video calls and screen sharing in our in-depth article about hosting video calls.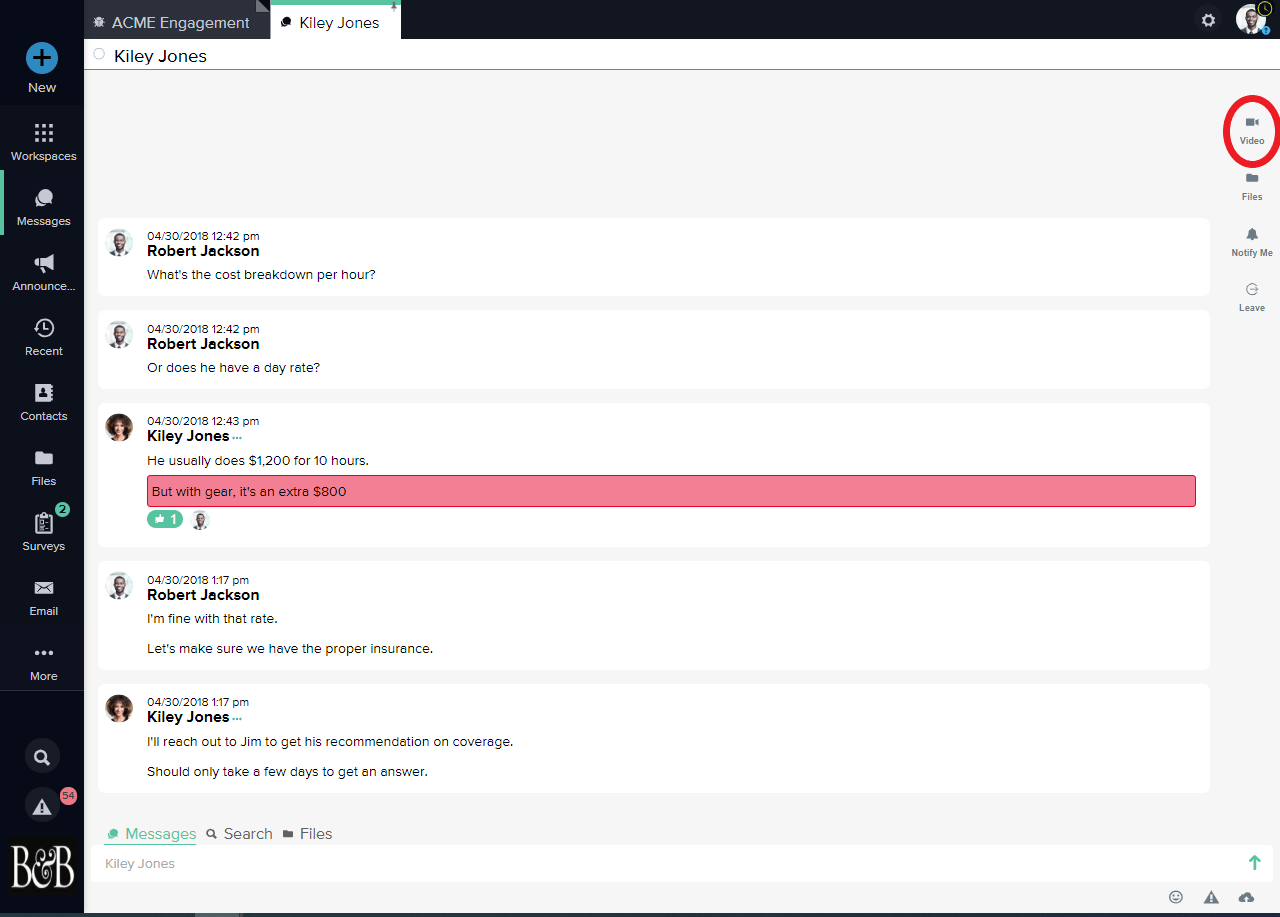 From video calls to file sharing, Emojis to urgent messages, this overview article touches on many of the most commonly used tools within the private messaging function. Still have questions? Check out the suggested articles below, or tap into our full database of web articles to get tips, tricks and step-by-step instructions on the Workstorm tools and features that interest you.