How to send, receive and store files on Workstorm
Detailed instructions for using secure file sharing and storage
Sharing files with colleagues, clients and superiors is a necessary part of conducting business, but it hasn't always been easy. Where email often excels in security, it often lacks in capacity and efficiency, making it difficult or impossible to send and receive large files, or to find files buried in past emails.
Drop boxes and file transfer services have no trouble with capacity, but they require users to leave their regular work interfaces to go upload or download a file, thereby wasting time and reducing efficiency. In addition, many services only store files for a limited time, resulting in expired download links. But most importantly, many of these file sharing services do not guarantee the security of your files, especially on free accounts.
For all these reasons and more, Workstorm provides all of its members with secure, high capacity file sharing – so that you can get more things done with less hassle.
Storing files
All files sent by or received by you are stored securely under your Files manager in the left menu. Click on Files to find a historical list of every file you have uploaded to Workstorm and every file other members have shared with you.
These files can be previewed , downloaded , or reshared  with other members at any time from directly within Files, using the icons to the right of each file. You may also upload files directly to your storage, using the  icon in the upper right corner of the window. With high capacity file storage, you can upload and share individual files as large as 3 gigabytes (GB).
Sending files
There are two ways to send files in Workstorm. The first way is to click on Files in the left menu. Then, either Upload a new file that you would like to share, or search for an existing file. Then, click the Share icon to the right of the file. Search for and select a Private or Team recipient from the dropdown list provided.
The second way to send files in Workstorm is to click on Messages in the left menu and open a Private or Team conversation. Then, click on the  icon, located to the right of the message box, or simply drag and drop a file into the message box. This will open the file uploader, where you can upload one or more files and add a comment to accompany your file(s). Share the file(s) by clicking Upload Selected File or Upload All, if sharing multiple files.
Resharing files
Reshare files with other members or teams by clicking the   icon. This can be done through clicking on Files in the left menu and searching for the file you wish to reshare. Or, if the file was shared within a Private or Team conversation, click on the  icon within the file thumbnail. Then search for and select Private or Team recipients from the dropdown.
Resharing files within Workstorm saves you time by not having to download or re-upload a file in order to share it more broadly among colleagues and stakeholders. Members can reshare files that were either uploaded by or shared with them.
Receiving files
Members can receive, view, download and reshare files from other members via Private and/or Team conversations. Click on Files in the left menu to see a list of all files you have either received or uploaded, or open a specific Private or Team conversation to open a file shared in that conversation.
Accessing DMS integrations
To access your firm or company's integrated document management system (DMS), such as iManage or Dropbox, click on Files in the left menu. Your DMS folder will appear under your Workstorm file folder.
Click on the DMS folder, and enter your credentials to login to your DMS account.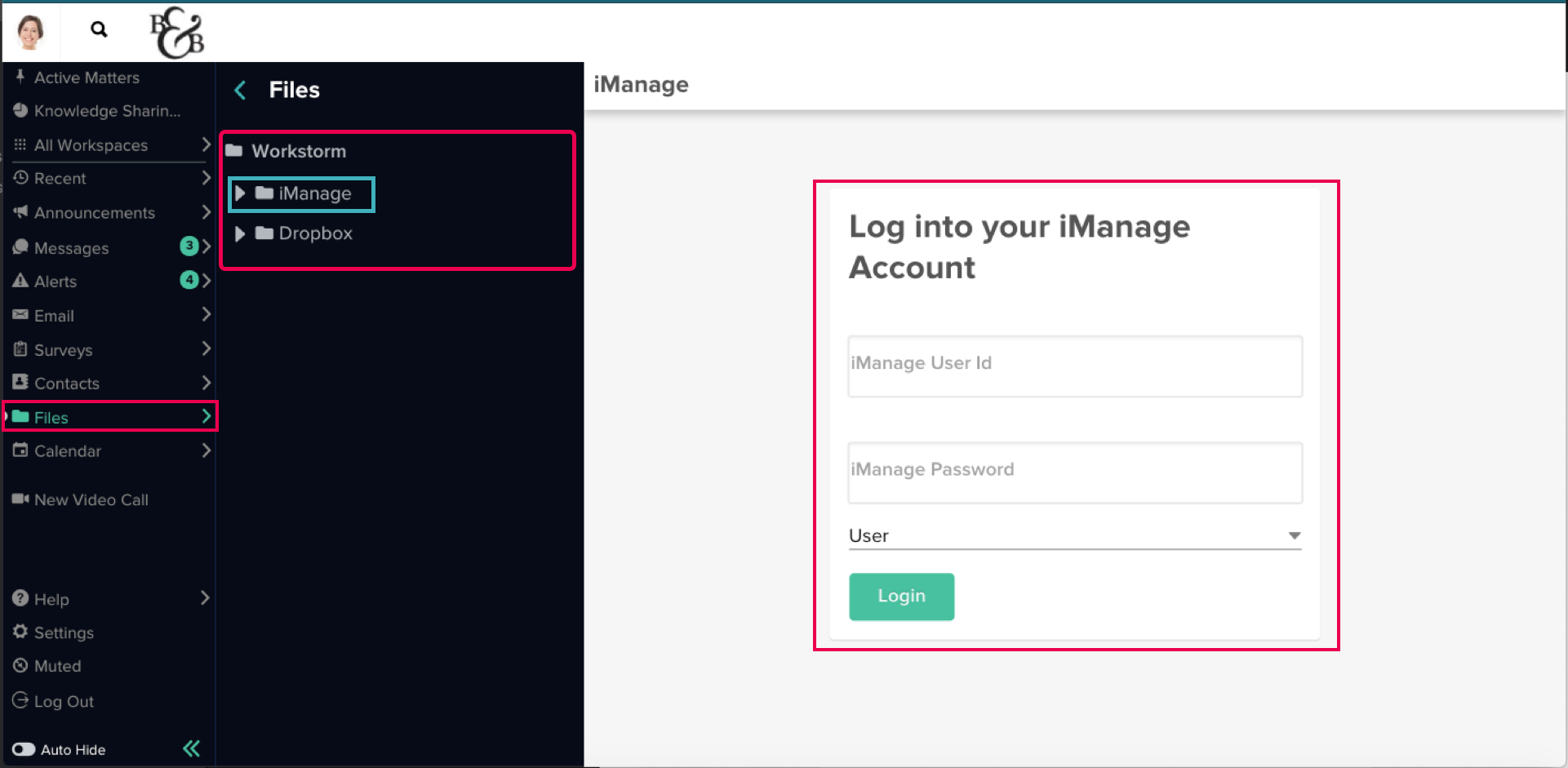 Your personal folder structure will appear, with access to all documents stored in your DMS.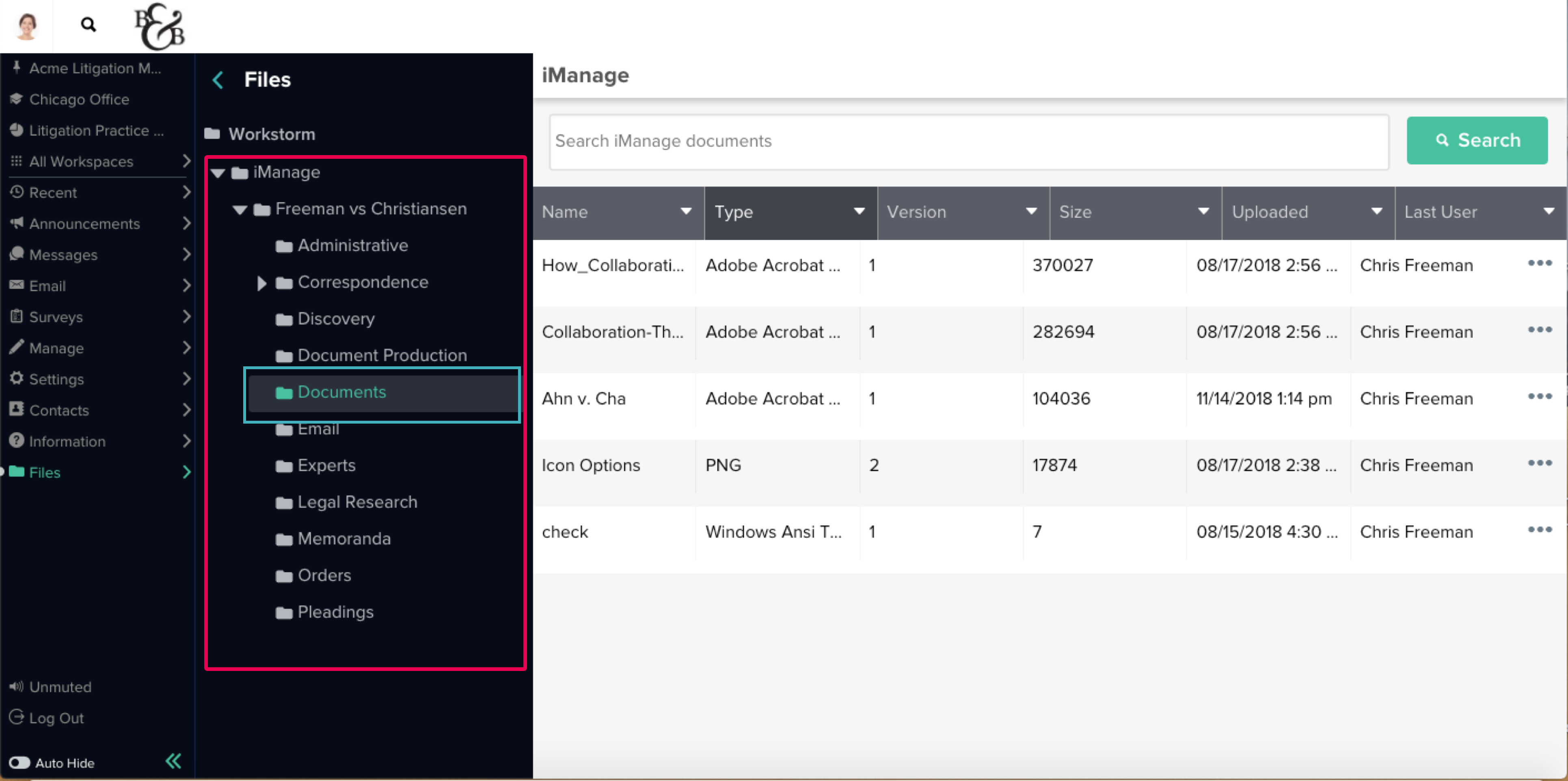 Search by keyword or file name to find specific documents. Click on the file name to open the document in a new tab within your DMS system.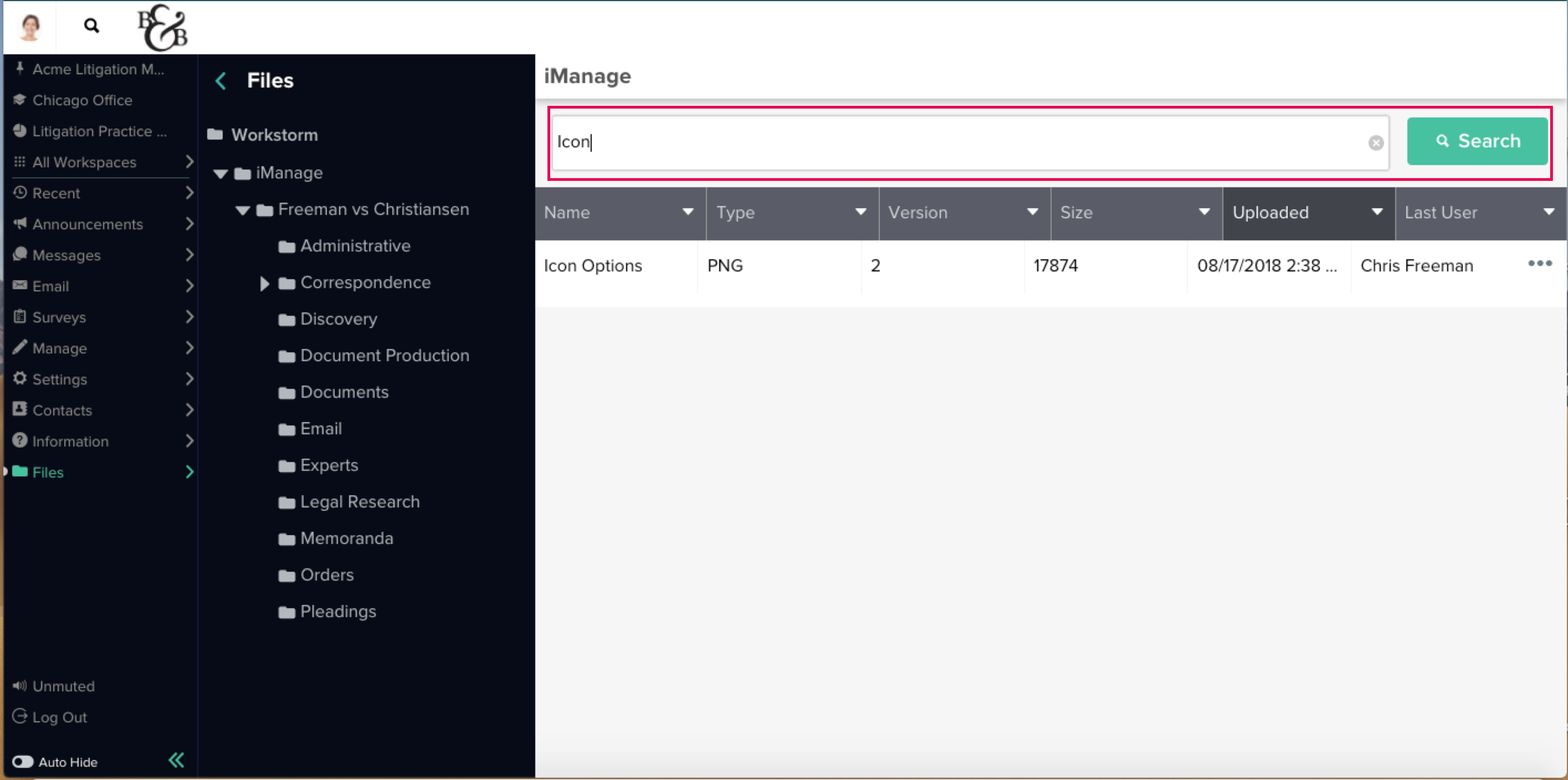 To re-share or download a DMS file, select the ellipsis and then Re-share or Download. Re-sharing a DMS file in Workstorm sends a DMS file link to the recipient via the Messaging feature. Clicking on the link will open a new tab inside the DMS system where the user can edit or update the file as needed, all while maintaining version control within the DMS system.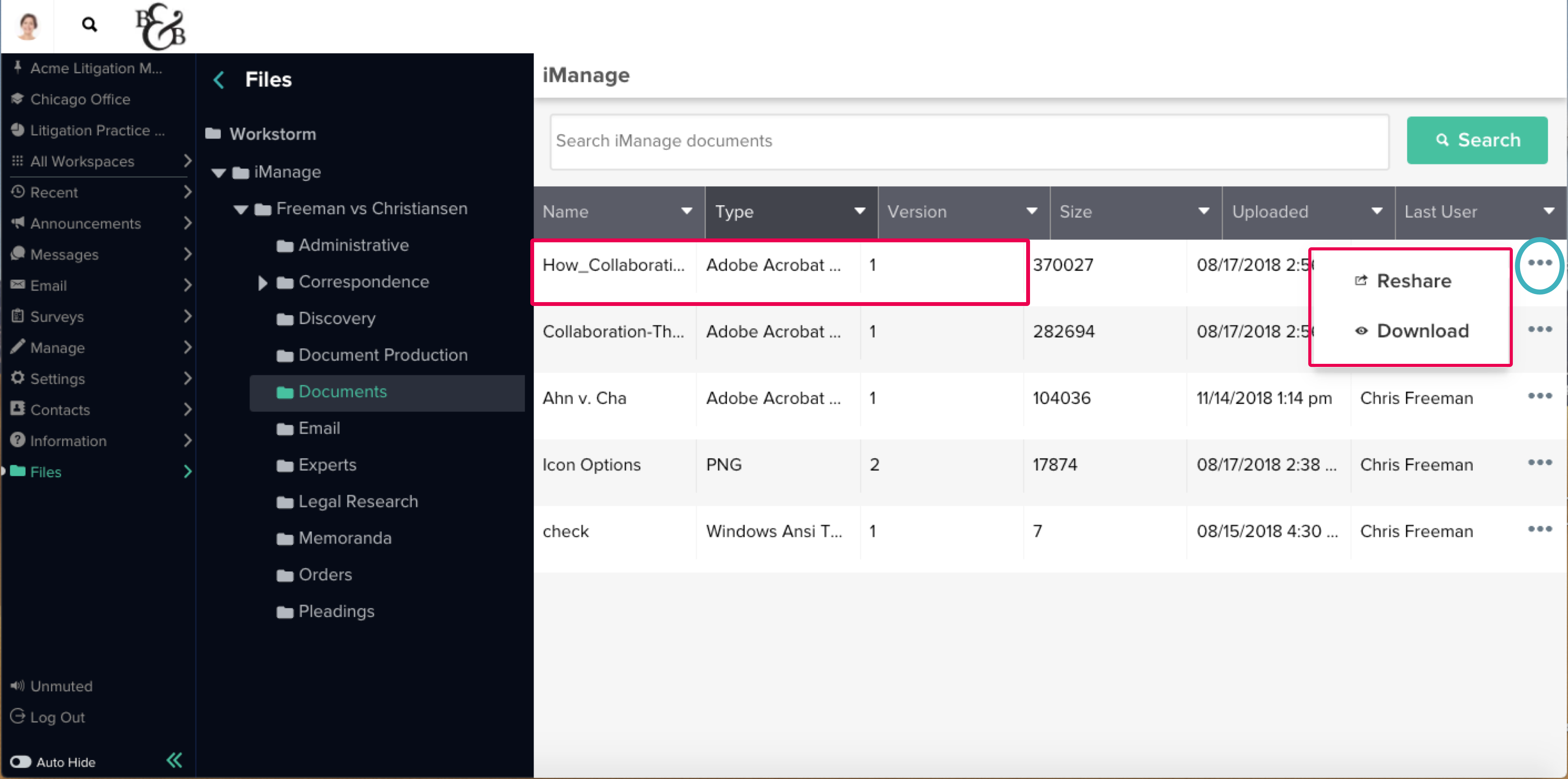 If your company uses another product for DMS, please contact a Workstorm representative to see if there is an integration available.
Secure, high capacity file sharing and storage is one of the most frequently used tools in Workstorm. Members can quickly share, download, store and collaborate on files all within the same platform, while being assured all information is safe, secure and kept confidential.