In addition to offering comprehensive access to your email account, Workstorm allows you to sign into your Office 365 account to access your calendar to create new events, manage upcoming events and schedule video conferences with your colleagues, all at the click of a button.
Signing into Calendar
The Calendar feature is located in the left menu of your Workstorm dashboard. If you don't see it on your left menu, click More to bring up a menu with additional features where you will find Calendar.
Click Sign In and enter your credentials.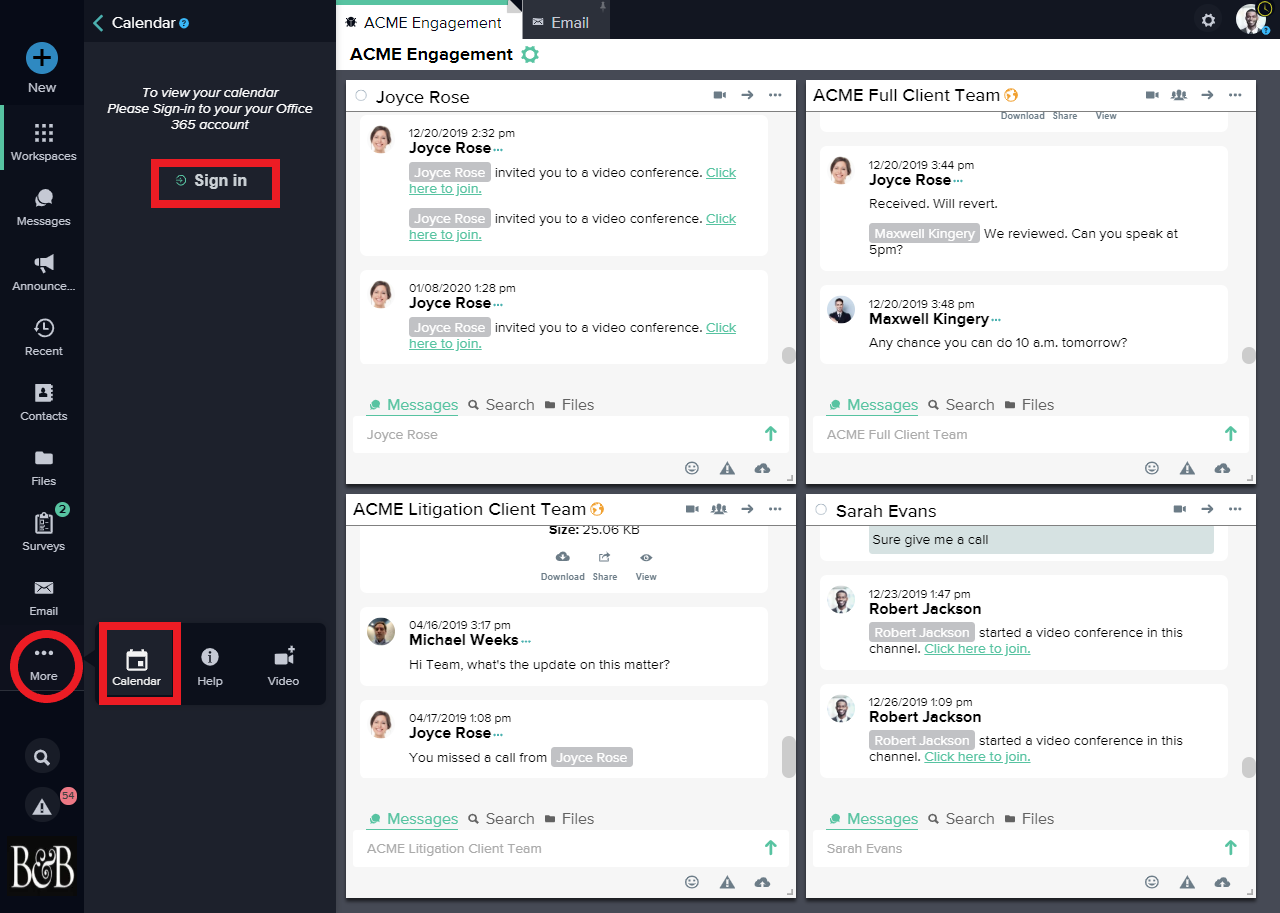 If you do not see Calendar in the left menu or in the More menu, please contact your Company Admin to enable the feature.
Personalize your Calendar View
Once you have signed in to Calendar, you may customize your Calendar view by selecting a daily, weekly or monthly view of your synced events.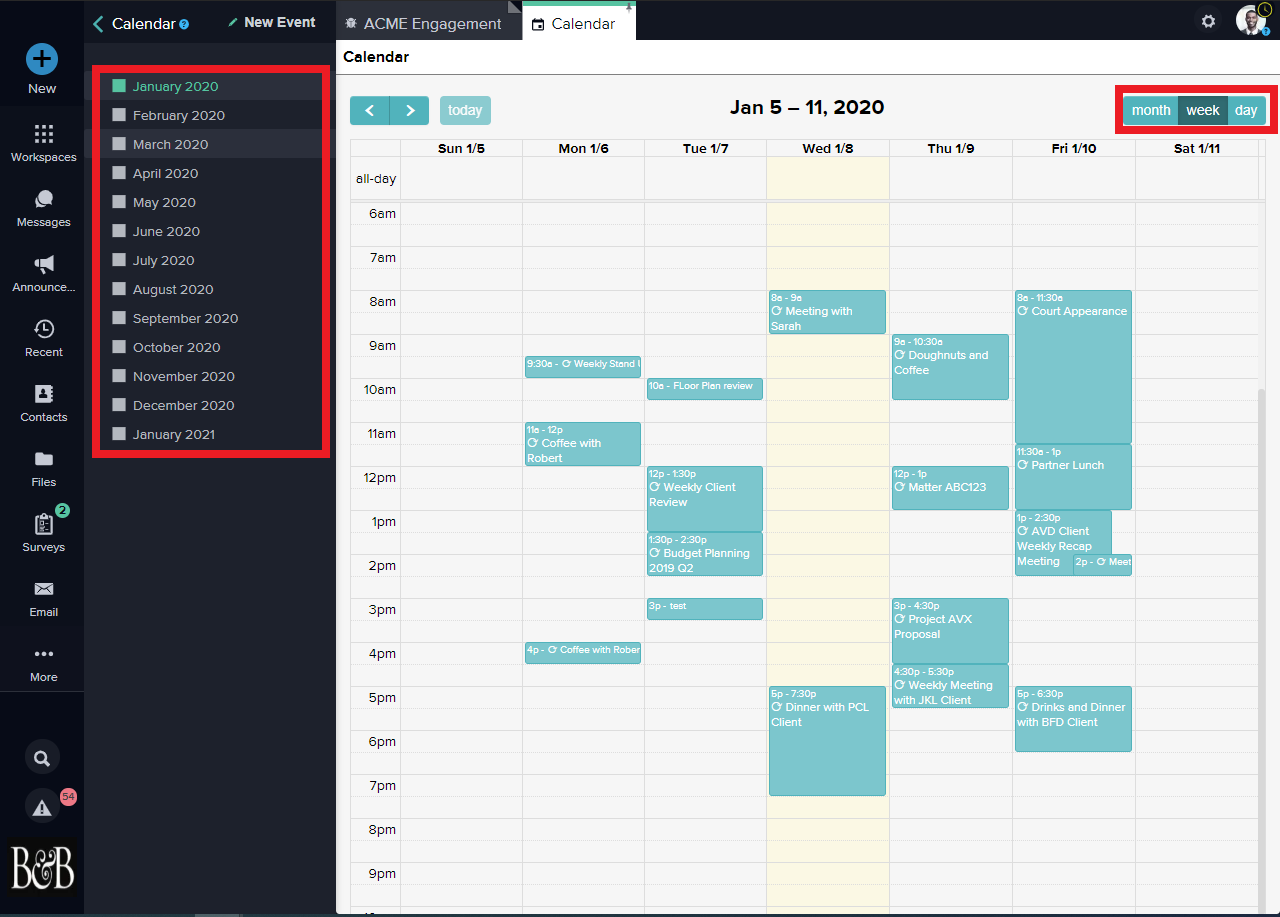 Additionally, all of your synced Calendars will be listed below New Event. If you do not want to see a particular Calendar, click on the box next to its name to de-select it.
Creating Events
Click on New Event to open the Workstorm Event Builder. Add an event name, select a start and end date and time, and toggle on Video Conference to automatically add dial-in options and a link for video conferencing.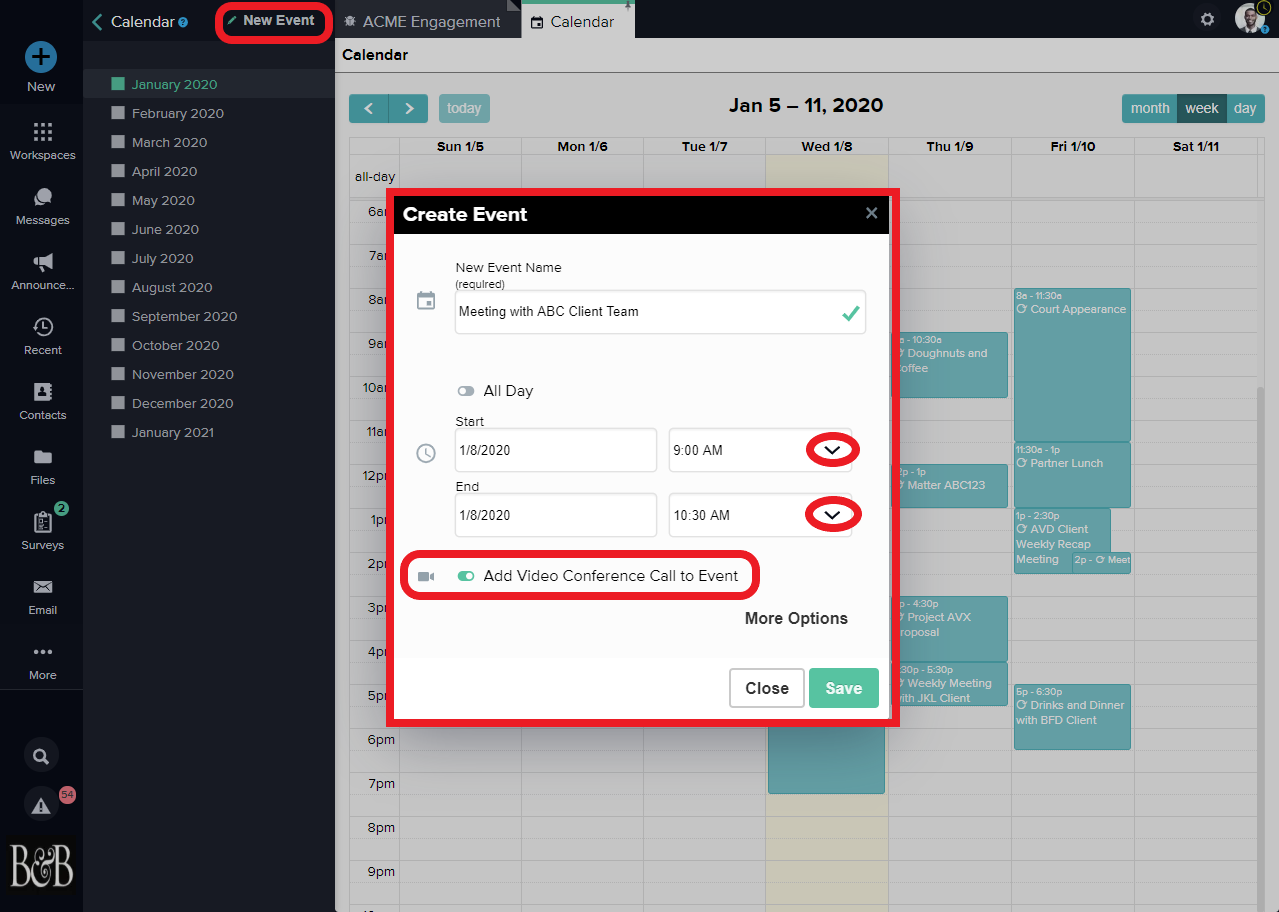 Inviting Colleagues to Calendar Events
Click on More Options to invite clients or colleagues to an event.
Add colleagues to an event by typing their email addresses and selecting their names from the drop-down. Customize the event note by adding any additional information in the text box above the event's video conferencing details.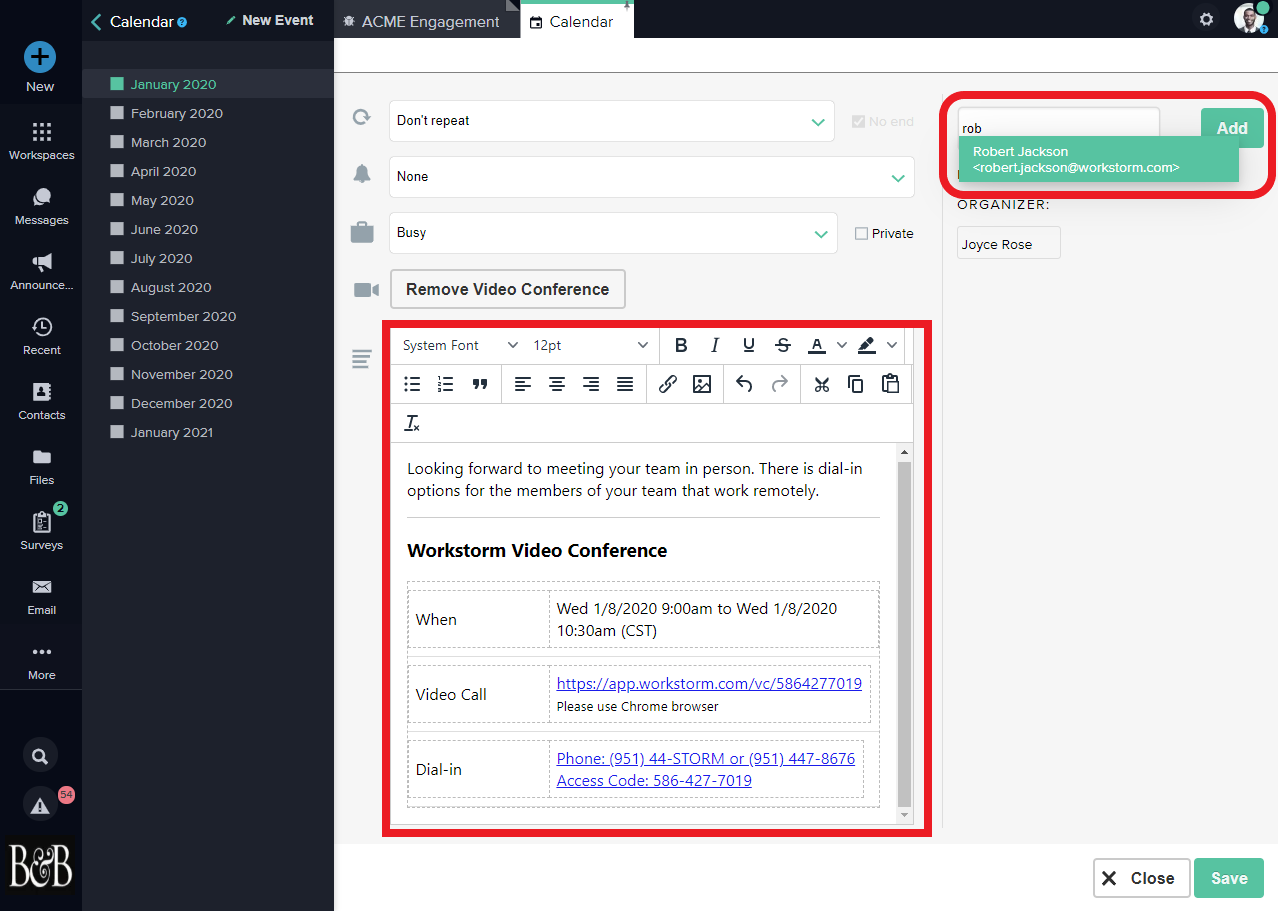 Managing and Editing Scheduled Events
Once you are back to your daily, weekly or monthly view, click on any event to open the event details.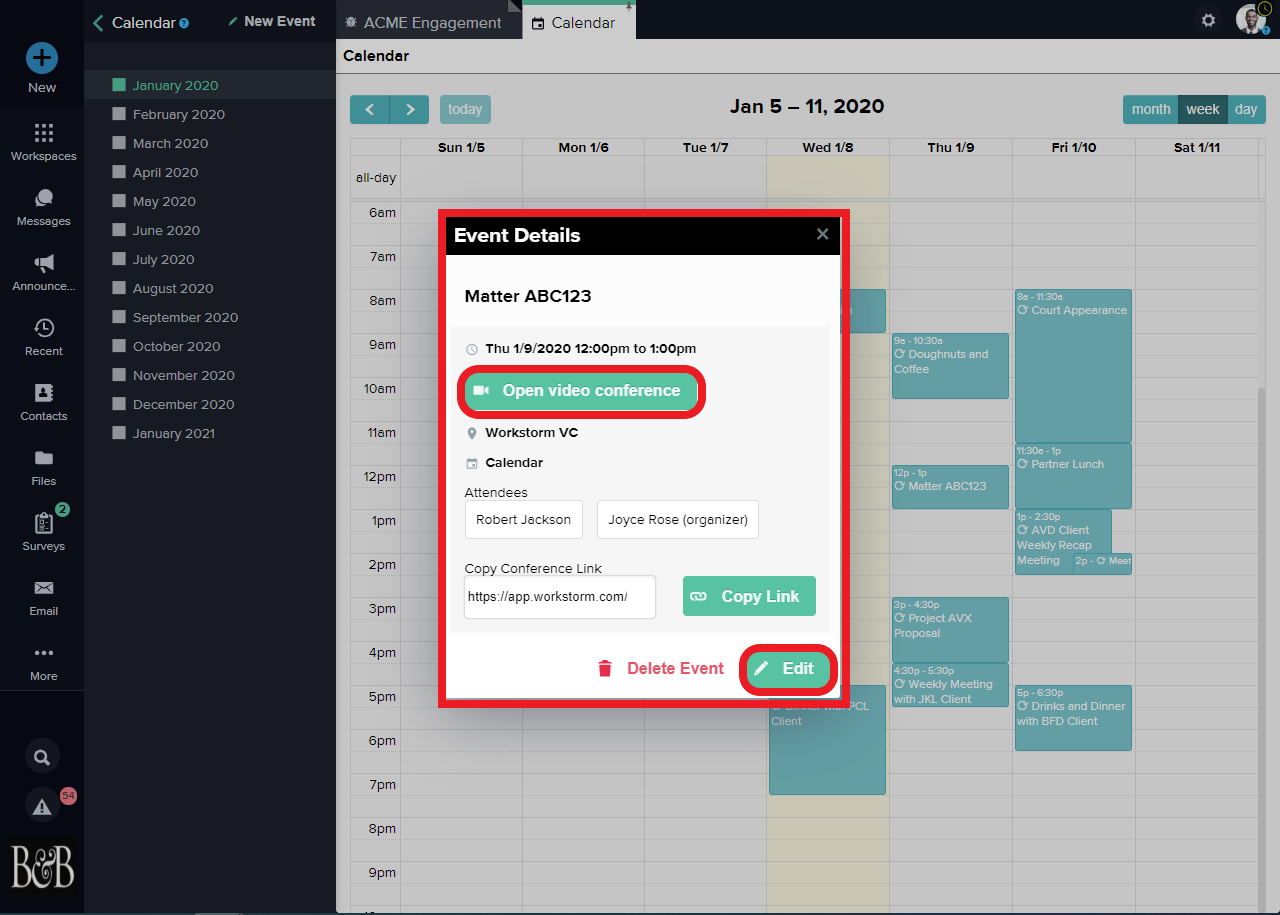 Check on the time of the event, open the video conference link, see confirmed attendees or click Edit to make changes to the event. Delete the event to cancel and remove it from all calendars.
Calendar is just one of the many collaborative tools available to you and your Workstorm team. By centering your work all in one platform, with features like Calendar, Email, Messaging and more, you're freeing your mind to focus on more important things and to get back to the valuable work that you do.